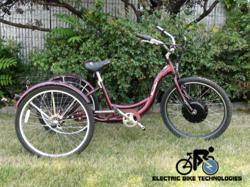 This unique "E-TrikeKit" fills the gap in the electric bike conversion kit market with an e-bike kit designed specifically for adult tricycles.
Newportville, Pennsylvania (PRWEB) July 10, 2012
Responding to an increased demand for electric-assisted adult tricycles, specifically among aging baby boomers, Electric Bike Technologies Company now delivers an "E-TrikeKit" conversion kit which provides safety, power and ultimately an exceptional user experience with the addition of a more powerful motor, reverse functionality, speed limiting and an LED power console.
The system is operated with a variable throttle giving 100% control to the rider and top speeds are limited and determined by forward or reverse mode. Limiting speeds based on forward or reverse combined with the throttle-on-demand is unique in the industry and brings a sensible approach to a product that is long overdue in the electric bike conversion kit market.
The main features of the E-TrikeKit are:

Motor and Controls Designed Specifically for Heavier Tricycles
Reverse Functionality
Limited Top Speeds - 10MPH Forward and 3MPH in Reverse
LED Battery Indicator (fuel gauge)
"Eyeletted" Double-Walled Rims
Quick Connect/Disconnect Motor Connector
Easy Connect Water-Proof Connectors
3-Wire Intelligent Controller with On/Off Toggle
Optional E-Brakes
"At E-BikeKit we had about 25% of our customers requesting a kit that would work on an adult tricycle. Answering this demand and working in conjunction with Worksman Cycles (America's oldest bicycle manufacturer and industrial tricycle experts) we've developed the E-TrikeKit and added some trike specific features that significantly enhance the end user experience. We're confident that the E-TrikeKit will live up to the expectations that our customers have come to expect from E-BikeKit."
-- Jason Kraft, Electric Bike Technologies CEO.
"We are excited to be teaming up with Electric Bike Technologies to offer their conversion kits on our line of Adult Tricycles. These well-designed kits will allow us to broaden our product line in the booming adult tricycle market with eTrikes that meet our quality requirements as the industry leader."
-- Bruce Weinreb, Worksman Cycles Director of New Markets.
For more information about the E-TrikeKit™ visit the company website at http://www.e-bikekit.com
Electric Bike Technologies LLC | E-BikeKit™
Email: pr(at)e-bikekit(dot)com
Phone: 1.866.882.3245
3950 B1 Nebraska St, Newportville, PA 19056
Worksman Cycles
http://www.worksmancycles.com
Email: cycles(at)worksman(dot)com
Phone: 888-3-wheeler
94-15 100th Street, Ozone Park, New York 11416