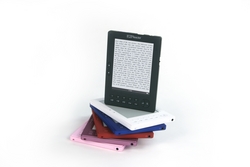 We are very excited because the Pocket PRO will give customers greatest freedom of choice. Whether it's classic titles or new releases, the customer can finally read it all on one device
San Jose, California (PRWEB) August 7, 2009
Astak Inc.'s new 5-inch Pocket PRO eBook reader collaborated with Adobe Digital Editions to provide a strong contender against Amazon's Kindle.
On July 30th, Astak officially announced that they acquired permission from Adobe Systems to install the Adobe Digital Editions firmware on their 5-inch and 6-inch devices. This new firmware will enable users to purchase and read copyright-protected eBooks in PDF format from major eBook stores such as Powell's Books and Books on Board. Astak Inc. is only the second company to have obtained this firmware besides Sony.
Just like its 6-inch EZ Reader sibling, the 5-inch Pocket PRO's greatest strength is that it natively supports more than 20 DRM-free formats. This feature allows users to read any non-copyrighted eBook available on the Internet, such as public domain titles from Gutenberg, which gives the user freedom to choose from hundreds of different eBook websites. With the wide range of supported file formats, users do not need to worry about compatibility issues between their documents and their eBook reader.
"We are very excited because the Pocket PRO will give customers greatest freedom of choice. Whether it's classic titles or new releases, the customer can finally read it all on one device," said Walter Shan, project director of Astak's eBook Reader Department.
Other notable features of the Pocket PRO include PDF reflow which improves the readability of documents, and a text-to-speech function that reads documents aloud. It comes in six different colors, and has three or more font sizes to accommodate readers who like to read bigger text.
It is designed to be compact, sporting a 5-inch screen and weighing 6 ounces. The 8-level grayscale E-ink screen approximates the experience of reading printed text, so that users will not suffer from eyestrain after hours of reading. The internal Epson controller and a 400 MHz processor speeds up page turns.
The Pocket PRO comes with 512MB of memory, plus a SD card slot for additional storage capacity up to 16GB. It has a replaceable battery that lasts up to 8,000 page turns on one full charge. Plus, it can play MP3 music files while users read eBooks.
The 5-inch Pocket PRO reader will sell at a promotional price of $199, and is now available for preorders online at http://www.theezreader.com and http://www.astak.com. The new devices are predicted to ship out by the end of August.
About Astak Inc.:
Astak Inc is located in San Jose, California, focusing on consumer electronics offerings as well as security surveillance products. Founded in 1992, Astak Inc has valued customer service and research & development since its inception. WiFi and touchscreen eBook readers are due in the near future.
Contact:
Iris Huang, Director of Public Relations
Astak Inc.
866-368-8788
http://www.astak.com
http://www.theEZReader.com
# # #