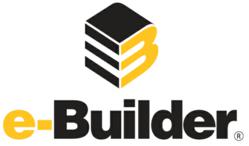 e-Builder provides a platform that not only improves collaboration, but also helps us provide our clients with increased transparency and better communication
Ft. Lauderdale, FL (PRWEB) January 26, 2012
e-Builder, the number one provider of owner-centric capital project and program management software to hospitals, announced today that KLMK Group (KLMK), a leading provider of innovative healthcare facility solutions, has selected e-Builder Enterprise to assist in the management of their capital projects. KLMK is an advisory firm solely dedicated to providing the healthcare industry with Strategic Project Assessment and Organization, Project Launch Gap Analysis, Project Launch Readiness, Program Management, Activation and Move Management Planning. Combined, e-Builder and KLMK work with some of the top U.S. health systems.
KLMK has experienced significant growth over 10 years since its inception in February 2002. The drive to continuously improve their value equation for clients and industry partners led KLMK to investigate collaborative software options that would not only increase their efficiency based on current workload, but also be robust enough to provide options for future anticipated growth. The ability to have a tool that would foster more collaboration with the entire project delivery team was a very important criterion for the solution in which they were looking.
Bill McMahon, President/COO of KLMK said "we researched several different options and e-Builder's software offered the best solution to complement our proven process management systems. We strongly believe that collaboration is key to a project's success. e-Builder provides a platform that not only improves collaboration, but also helps us provide our clients with increased transparency and better communication. This helps us deliver better project outcomes for our clients."
e-Builder is helping KLMK to centralize project documentation, schedules, budgets and cash flow. As a result, all team members have immediate access to relevant project information in order to make informed decisions. KLMK has utilized e-Builder to assist clients in the development of standards and processes to enhance their project management capabilities.
"e-Builder has increased our effectiveness in managing projects, from small, single projects to large capital programs with complicated processes. e-Builder provides our clients with a portal to capture critical project data. We then leverage this data to generate reports to evaluate how well a project is performing and make necessary corrections before issues become unmanageable" added McMahon.
Jon Antevy, e-Builder CEO, added "using our visual workflow engine, KLMK has been able to codify their best practices into e-Builder, thereby creating repeatable and measurable outcomes for their clients."
About The KLMK Group
KLMK Group, INC (KLMK) is a leading provider of innovative facility solutions. The firm is solely dedicated to the healthcare industry and provides independent, objective and professional advice to owners involved in the planning, launch, management, and transition of new facilities and capital projects. With offices in Richmond, VA; Atlanta, GA; Birmingham, AL; Houston and Dallas, TX; KLMK's consulting staff supports a variety of healthcare capital projects in the Mid-Atlantic, Southeastern and Southwestern United States. For more information on KLMK Group, visit http://www.klmkgroup.com.
About e-Builder
e-Builder is the leading provider of integrated capital program management software and construction management software for top facility owners and the companies that act on their behalf. The company's flagship product, e-Builder Enterprise, improves capital project execution, resulting in increased productivity and quality, reduced cost, and faster project delivery. Since 1995, e-Builder's technology leadership and construction industry focus has provided thousands of global companies, government agencies, and healthcare and educational institutions managing billions of dollars in capital programs with solutions to improve the plan, build, and operate lifecycle. The company is privately held and headquartered in Fort Lauderdale, Florida. For more information, visit http://www.e-Builder.net.
###