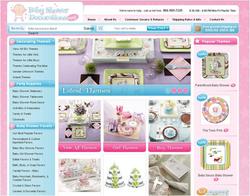 BabyShowerDecoration.net is a labor of love for us
Enumclaw, WA (Vocus) June 10, 2010
BabyShowerDecorations.net today announced the full launch of its retail e-commerce website. This new on-line storefront is designed to serve the requirements of people hosting or planning baby showers. With over 2,000 baby shower decorations, party favors, and accessories available to choose from, the owners believe this site offers the best selection of baby shower party supplies and favors in the industry. The organization has completed the roll-out of all it's new updated features, and has successfully processed its initial customer orders.
"BabyShowerDecoration.net is a labor of love for us" says Customer Service Manager Kimberly Sales. "We love to work with customers who are designing a creative and unique event, and our breadth and depth of product is unmatched, allowing us to help these people host a truly special and fun event."
The management team has invested a great deal of time making sure the product selection is the best available in the industry. "Our goal was to create a one-stop shop with more baby shower decorating themes and related accessories than any other on-line retailer" said BabyShowerDecorations.net General Manager Traver West. "We think we've accomplished our objective by offering customers the choice of over 60 baby shower themes, plus offering over 500 different baby shower favor options."
Designed to allow customers a great deal of flexibility in personalizing their party favors, the Baby Shower Decorations website features a number of tools which allow clients the ability to customize favors and accessory items with the guest of honor's name, date of event, and other information. The site also features dedicated product sections for Centerpieces, Invitations, Tableware, Gag Gifts, and much more.
Also contained within the site are a large number of advice articles and tips, each one devoted to a specific topic to help the host of the baby shower in their planning. This collection of ideas were crafted by the company's professional party planners based on the success of helping over 100,000 customers host one of these important milestone family events. A great example is in the King of the Jungle Baby Shower section of the site where a client can get ideas on how to best use the products available to them.
About Puakea Group, Inc.:
BabyShowerDecorations.net operates from office in Enumclaw, Washington. It's parent company operates several on-line retail party decoration websites with a focus on generational family milestone celebrations such as bridal showers, 1st birthday parties, and weddings. Having served almost 100,000 clients, the company is devoted to operating as a family friendly organization, allowing staff the flexibility to pursue interests with their families, their children's projects, and their community service interests.
###