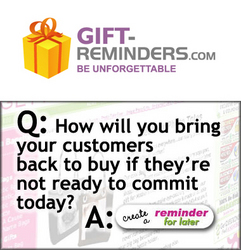 Overland Park, KS (PRWEB) July 29, 2008
E-commerce entrepreneur Bryan Azorsky announced today the launch of Gift-Reminders.com, an innovative shopping cart plug-in that turns browsers into buyers. This customizable tool enables shoppers to send personalized reminders to themselves about a specific item, on a future date of their choice. When the customer receives their email reminder, they can return to the exact product in just one click. By bringing the customer directly back to the item, the consumer has no need to search the web, and therefore see the competition.
Until recently, it was common for on line shoppers to either bookmark an item of interest, email themselves or attach a sticky note to their monitor and then trust that they will remember where to find the information when they need it. The Gift-Reminders service helps browsing customers get back to the site, and the item, when they are ready to buy.
As owners of Bagettes.com, Azorsky, along with wife and business partner Felice, wanted to make the shopping experience at their store simple and convenient for their customers. One of their observations was that people were researching buying their custom photo bags and purses 2, 6, even 12 months before they needed the item. Since many of their products are bought as gifts for occasions like weddings, Mother's Day, and Christmas, they wanted to find a way to ensure their customers remembered their site, and then returned to make the purchase.
Azorsky, along with programmer Stuart Sands, embarked on creating a custom reminder for Bagettes.com. By analyzing revenues in 2007, and seeing nearly 5% of sales coming from the reminder emails, they knew they were onto an idea that could benefit other sites. Their idea evolved into Gift-Reminders.com, which is now available for other e-commerce businesses by subscription. With 4 levels of service available, Gift-reminders suits the relatively new site owner as well as the well established, high-volume store.
According to Azorsky, "On our site, we have found the Gift-Reminders service effectively reduces your competition. Before today, if the shopper cannot remember the website where they saw a product they'll usually do a Google search, which immediately opens the door for your competition. Your chance of converting that consumer just got a lot harder. We were also pleased to see a 15% increase in order size from the customers that have used the reminder service vs. our regular customers."
Here is how Gift-Reminders works for the customer. While surfing the web, a customer comes across an item that would be perfect for their mother. With just a few clicks, the customer creates a gift reminder with a personalized note, for example "This would be a great gift for mom's b-day." The customer also includes the date they want the reminder to arrive in their in-box, perhaps one month before their mother's birthday. Their reminder e-mail will arrive on their chosen date with their custom message, and a link straight back to the product on the E-commerce subscriber's site.
Jack Humphrey, of TheFridayTrafficReport.com and one of the most accomplished and experienced on-line marketing experts today says, "Anyone who is serious about pulling all the sales they possibly can out of their e-commerce site should be interested in tools like this that help them provide a better customer experience while bringing customers back time and again."
Testing and tracking guru, David Bullock says, "The gift reminders service gets the person to 'bookmark without book marking'. Instead of trying to find what you are looking for, what you are looking for finds you, exactly when you tell it to. A very interesting twist on customer engagement. The numbers suggest a significant 're-commerce' effect by using this tool. To at least test it out is a no-brainer. From the numbers we have seen additional revenue of 10% or more is possible with the same traffic you are already getting. This looks to be one way to increase conversion without changing the configuration of your website."
Bryan Azorsky is the co-owner of Gift-Reminders.com and Bagettes.com. With over 12 years of developing, manufacturing and selling custom consumer products, Azorsky is now entering the E-Commerce services market.
# # #