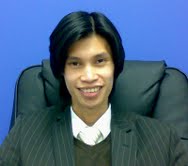 If our clients have the potential to sell to an overseas market, we ensure that we deliver the best advice possible so that they capture it
Adelaide, South Australia (PRWEB) October 02, 2012
Australian small and medium enterprises (SMEs) are increasingly responding to the growing need to have an online presence. Having a small business website no longer costs tens of thousands of dollars, and by having a shopfront that is open 24/7 they are able to engage their customers/clients out of business hours.
However, Binh An Nguyen, CEO of Adelaide-based Market Ease Business Promotions, believes that few SMEs are seizing the global opportunities that emerge when one has a business website. In an interview this week he explained.
"In Australia we are geographically a long way from much of the rest of the world, and we are used to catering to a primarily local market" said Mr Nguyen. "But with an online presence -- an e-commerce website -- our market has the potential to be international - and this is a concept that many find difficult to grasp."
"Such opportunities are most obvious for those selling digital products, or easy-to-ship merchandise - from jewelery to clothing to promotional products" continued Mr Nguyen. "However, we encourage all of our clients to look to international markets, as appropriate, when we design websites and deliver SEO services for them."
A recent Sensis® e-Business Report, based on the findings of a series of surveys tracking confidence and behaviour of Australia's SMEs, supports Mr Nguyen's view. It showed that of those businesses surveyed who took orders online, only 12% used their websites to target overseas customers.
"What is really interesting though, is that the report reveals that of those companies who had exported in the 12 months leading up to the survey, only 36% used the internet to target customers overseas" said Mr Nguyen. "If they already have a process established for exporting, why are they not targeting an international market?"
"If our clients have the potential to sell to an overseas market, we ensure that we deliver the best advice possible so that they capture it - from website design through to SEO services" he continued.
More information on Adelaide SEO Services is available at marketease.com.au
About Binh Nguyen And Market Ease Business Promotions
Binh is the founder and CEO of Market Ease Business Promotions Pty Ltd, a company dedicated to helping small to medium sized enterprises succeed online. In the last 3 years, Binh has helped several multi-million dollar companies, in Australia and abroad, sell millions of dollars worth of products online, and is currently helping dozens of business owners generate a flood of leads and acquire an avalanche of sales to their firms through the power of the internet. His clients range from all over Australia, to New Zealand, USA and in the UK.
The Market Ease SEO Adelaide expertise can be tapped into at http://www.marketease.com.au