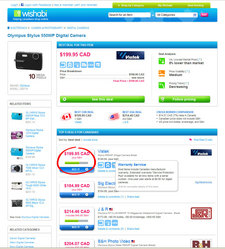 While consumers love the convenience of online shopping, they also want to get great prices and the best deal available
Toronto, ON (Vocus) July 9, 2009
To address the needs of consumers who are looking to make even smarter buying decisions, Wishabi (http://www.wishabi.ca) has launched the e-Commerce industry's first predictive intelligence technology, enabling both price and value comparisons of more than three million products. Using statistical analysis, trending and a patent-pending deal-rank algorithm, Wishabi tells consumers if they are getting the best deal possible for local or cross-border shopping. Wishabi also lets consumers know if the price is anticipated to move lower of higher, and enables them to follow prices for items on their wish list.
Wishabi is also expanding its shopping categories beyond Electronics, Appliances, Books, Music & Videos, Furniture and Indoor Living to include Babies & Kids; Fashion & Style; Health & Beauty; Home & Garden; Musical Instruments and much more.
"While consumers love the convenience of online shopping, they also want to get great prices and the best deal available," said Wehuns Tan, CEO of Wishabi, Inc. "With the latest features offered on Wishabi.ca, consumers now have ready access to more complete information to ensure they can make smarter and more confident buying decisions, and get the most value from their purchase."
Predictive intelligence is among several innovative new features launched today by Wishabi. The company is also introducing:

Value Visualization - provides transparency about a retailer's reputation, return policies, shipping time windows, and whether price-matching is offered. Merchants are evaluated on over 42 different values, enabling Wishabi's patent-pending deal-vectoring system to give consumers an at-a-glance view of the added value that retailers provide.
Demand-driven Social Shopping - uses aggregate demand information to help consumers follow items they want, and automatically get the best offers targeted to them. Merchants can use Wishabi's demand-driven system to see what products are in demand, and create offers to meet that demand.
Cross-Border Analysis - takes into consideration the growing number of deals that can be found south of the Canadian border. Wishabi lets consumers see all costs upfront - including brokerage fees, duties, exchange rates, shipping and customs fees - to ensure any comparisons take into account hidden fees that are typically only revealed once a product arrives at the consumer's front door.
Seeing the Real Value Provided by Merchants
Wishabi's industry-leading new features reflect how consumers are looking for more insight when making online purchases. The development of the new features was supported by a survey of more than 200 users in June 2009 that put the spotlight on purchasing decisions. Only 10% of users responded that pricing was the only factor that influenced their purchase. Factors that most influenced shopping behavior are: shipping speed and reliability (81.3%); a long and risk-free return policy (77.1%); a trusted extended warranty plan (76%); and the store's brand strength (47.9%).
About Wishabi.ca
Wishabi.ca is an e-commerce service that helps Canadians shop online by providing intelligent shopping technology that facilitates more informed buying decisions. Unlike typical comparison shopping sites, Wishabi also gets the shopping community to help find online deals for other consumers. Since its January 2009 launch, Wishabi.ca has grown to over 50,000 users, 250 merchants and three million products; and more than 20,000 crowd-sourced deals have been posted by deal hunters. Wishabi is led by an ex-Microsoft team and has raised $1.5M in Venture Capital to date.
Note to Editors:
Screen shots are available for download from flickr.com/photos/wishabica
Media Contact:
Jodi Echakowitz
Echo Communications (for Wishabi)
Tel: 905-709-9600
# # #