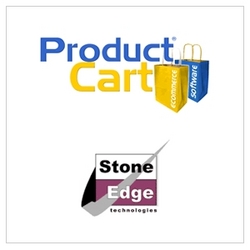 With just a few clicks, merchants using ProductCart can now import new orders into the Order Manager, where they have easy access to all the features they need to effectively process and fulfill orders
Mission Viejo, CA (PRWEB) February 20, 2008
Early Impact, developer of the ProductCart line of shopping cart software, and Stone Edge Technologies, developer of the Order Manager software for centralized order processing, today announced the integration of the two products, which will allow ProductCart users to license the Order Manager to streamline their order management, especially when handling multiple online storefronts and sales channels.
ProductCart e-commerce software is used by thousands of Internet stores to create and manage professional online storefronts. It combines hundreds of sophisticated features with remarkable ease of use and supports dozens of payment gateways, as well as shipping and marketing systems.
The integration between the two systems will allow Stone Edge customers to take advantage of ProductCart's unique e-commerce features, such as its Build to Order system for selling complex, customizable products and services over the Internet.
The Stone Edge Order Manager provides a single interface for effective order processing in a multichannel environment, where a company's Web, mail order, and retail businesses are managed in one shared system. The Order Manager is an ideal solution for managing orders and inventory across multiple, ProductCart-powered e-commerce storefronts, while retaining the branding of each individual store.
"Many ProductCart users take orders over the phone, have a retail location, or run multiple online stores with our shopping cart software. They were looking for a robust solution to consolidate order processing in one place." said Massimo Arrigoni, CEO of Early Impact. "The integration with the Stone Edge Order Manager addresses this need, helping store managers save time and money while becoming more efficient."
"With just a few clicks, merchants using ProductCart can now import new orders into the Order Manager, where they have easy access to all the features they need to effectively process and fulfill orders," said Barney Stone, president of Stone Edge Technologies. "And there is real-time inventory synchronization too: if you sell the last unit of a product in your retail store, or re-stock a sold-out product, those inventory adjustments can be reflected immediately in your ProductCart-powered store."
ProductCart is available starting at $695 per storefront. The Stone Edge Order Manager is available starting at $1500, which includes one shopping cart license, five workstation licenses, and an extended support contract for the first year.
About Early Impact, Inc.
Early Impact develops e-commerce software for small businesses. Its ProductCart line of shopping cart software is used by thousands of Internet stores around the world. Hundreds of Web design companies have chosen it as their e-commerce system of choice for building online storefronts for their customers. Early Impact is a privately owned California corporation, headquartered in Mission Viejo, CA. For more information about the integration between Early Impact's e-commerce software and the Stone Edge Order Manager, please visit http://www.earlyimpact.com/productcart/stoneEdge
Media Contact:
Massimo Arrigoni
Early Impact, Inc.
(800) 804-1680 ext. 6
About Stone Edge Technologies, Inc.
Stone Edge Technologies is a privately owned developer of affordable e-commerce software for small businesses. Barney Stone, a pioneer of database software for desktop computers, founded the company in 1983. Stone Edge began shipping its flagship Order Manager in 2000. Today more than 2,000 Web merchants use the Stone Edge Order Manager to help streamline their businesses. For more information about Stone Edge and its Order Manager software, please visit http://www.stoneedge.com
Media Contact:
S&S Public Relations, Inc.
Lisa Kornblatt
847/415-9330
###