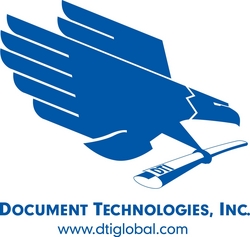 The platform's ability to review electronic data by domain names and e-mail threads not only increased the review throughput but also fostered consistent calls
Atlanta, GA (PRWEB) March 22, 2011
Document Technologies, Inc. (DTI), the nation's largest independent provider of legal support services and document outsourcing, announced today it has become a Gold Certified Partner of Clearwell Systems, Inc. This status allows DTI to provide the Clearwell E-Discovery Platform to clients on a hosted basis and leverage the product for processing, analysis, review and production of electronically stored information (ESI) for client cases.
As a Clearwell Systems Gold Certified Partner, DTI has met a rigorous set of requirements and has certified consultants that can capably incorporate Clearwell into the case team's workflow. DTI works closely with Clearwell for technical training and support to ensure all clients are maximizing the advantages of the platform. One client in particular, DuPont, has leveraged this technology on several successful projects.
"Our team recently worked with DTI to employ the Clearwell E-Discovery Platform on a litigation matter with aggressive deadlines and a voluminous amount of data. The tool is both intuitive and user-friendly so minimal training was required, enabling the team to quickly cull and review the data," said Dottie Perillo, a corporate paralegal at DuPont. "The platform's ability to review electronic data by domain names and e-mail threads not only increased the review throughput but also fostered consistent calls," she added.
"Since 2009 DTI has leveraged the Clearwell E-Discovery Platform among our industry-leading technologies to promote efficient and defensible discovery for the benefit of our clients. In particular, Clearwell's early case assessment technology is among the best," said John Davenport, Jr., Chief Executive Officer of Document Technologies, Inc. "We are proud to have attained Gold Partner status with Clearwell and look forward to our continued successful partnership."
DTI combines the technology of partners such as Clearwell Systems, Inc. with DTI's processes and experienced project management to offer unmatched expertise to legal teams. In addition to their integrated e-discovery, hosting and traditional litigation support services, DTI has locations nationwide and is uniquely positioned to handle both small and large electronic discovery projects.
"We highly value DTI as a trusted partner and a reliable provider of litigation support services," said Steve Rapp, director of worldwide channel for Clearwell Systems. "Gold Partner status is the highest level in the Clearwell Systems Partner Program and recognizes vendors who have demonstrated specialized knowledge of e-discovery and are committed to streamlining expensive phases of the overall process with Clearwell Systems."
###