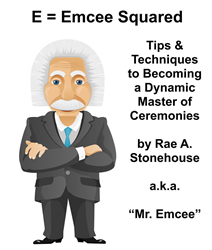 This step-by-step e-book is a primer for wannabe Master of Ceremonies or those that have just accepted the role of Emcee and are asking themselves "What have I got myself into? How do I even start?"
Kelowna, British Columbia, Canada (PRWEB) November 11, 2015
In this practical, easy to use e-book, Rae A. Stonehouse a.k.a. Mr. Emcee, of Kelowna, British Columbia, Canada puts the "Master" in Master of Ceremonies. He shares tips & techniques that he has learned over the years in becoming a dynamic Master of Ceremonies.
Officiating as a Master of Ceremonies at an event is a lot like looking at an iceberg floating in the water. The public only sees what is happening at the event … the tip of the iceberg. They don't see what has happened behind the scenes or under the water, so to speak, to make everything look like it is running smoothly.
As in Mr. Stonehouse's other publications he uses the "onion" approach of content exploration where he systematically peals back layer after layer. He takes his readers on a journey of discovery to the behind the scenes world of event organizing and the how-to of being an effective, dynamic Master of Ceremonies.
'E=Emcee Squared' is a step-by-step e-book is a primer for wannabe Master of Ceremonies or those that have just accepted the role of Emcee and are asking themselves "What have I got myself into? How do I even start?"
Experienced Emcees can benefit by gaining a different perspective on how they perform the role and add new skills to their repertoire.
Readers of this publication will learn:

How to take charge of any event.
How to organize yourself so that everyone will know that you are in charge!
How to think logistically, from several different perspectives.
How to create agendas that work.
Stage management techniques.
How to present awards & give recognition.
How to keep the featured speaker organized.
About different emceeing opportunities.
How to get paid for what you do.
'E=Emcee Squared: Tips & Techniques to Becoming a Dynamic Master of Ceremonies', by Rae A. Stonehouse a.k.a. Mr. Emcee is immediately available as a downloadable e-book at http://emceesquared.mremcee.com/
Contact:
Rae Stonehouse 250-451-6564
About the Author
Rae Stonehouse has been a Registered Nurse for 35+ years and is currently practicing and registered in British Columbia, Canada. He has worked primarily in the field of psychiatry/mental health nursing as a staff nurse and nurse therapist. He has an insatiable quest for knowledge.
One of Rae's passions in life is in the personal development of communication & leadership skills and sharing and mentoring others in developing theirs. He has been very active within the Toastmasters International organization and has made hundreds of presentations. While honing those skills, he served a term as the District Governor for District 21 Toastmasters which encompasses the entire province of British Columbia, serving as a leader for a leadership team of 90 officers and overseeing the quality of the program for some 4600 members.
As an entrepreneur, he has several business streams on the go. As Mr. Emcee he provides event planning, organizing and master of ceremonies services throughout the Okanagan Valley of British Columbia.
Rae has managed to maximize his passions of developing communication & leadership skills with his love of technology. He has designed several informational websites in the past and is known to be a collector of "useful" information.
Publications by Rae:
'Power Networking For Shy People: Tips & Techniques for Moving From Shy to Sly'
'PROtect Yourself! Empowering Tips & Techniques for Personal Safety: A Practical Violence Prevention Manual for Healthcare Workers'
'The Unofficial Guide to Facebook for Toastmasters Clubs' (under development)
He also writes helpful articles under the title of "Is Your Net Working?"
About eBookIt.com
Since 2010, eBookIt.com (based in Sudbury, Massachusetts) has helped thousands of authors and publishers get their books converted to ebook format, and distributed to all the major ebook retailers, including Amazon.com, Barnesandnoble.com, Apple iBookstore, Kobo, Sony Readerstore, Ingram Digital, and Google eBookstore.