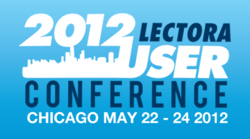 The proximity and accessibility of Chicago coupled with a super-charged agenda promises to make next year's event the most attended e-Learning event in the eight years of the Lectora User Conference. We have lots of great surprises planned
Cincinnati, OH (PRWEB) October 28, 2011
Lectora® e-Learning software announces the 2012 Lectora User Conference (LUC) will take place in Chicago, IL on May 22-24, 2012. Situated in the heart of the famed Michigan Avenue, this highly anticipated e-Learning event will take place at the world-class Chicago Marriott Downtown Magnificent Mile.
"The 2012 Lectora User Conference is quickly becoming the prestigious e-Learning event of the year that attracts e-Learning professionals from around the world to share trends, best practices and e-Learning innovations," said Peter Bray, Chief Marketing Officer of Trivantis Corporation. "The proximity and accessibility of Chicago coupled with a super-charged agenda promises to make next year's event the most attended e-Learning event in the eight years of the Lectora User Conference. We have lots of great surprises planned."
The eighth annual Lectora User Conference will provide exclusive access to keynote presentations, information and insights from e-Learning thought-leaders from around the world, several break-out sessions conducted by e-Learning gurus on an array of topics, and unique networking opportunities with other industry professionals to share best practices and expertise.
In conjunction with the User Conference, Lectora training will be offered on the days before and after the event, so attendees can make the most of their visit. Registration is available for Lectora Fundamentals, Lectora Intermediate, Lectora Extreme and Lectora Inspire Tools Training on May 21, May 22 and May 25 at the Chicago conference location so users can acquire skills firsthand in Lectora from the novice to the expert level.
Early bird conference pricing is available for $495 for those who register before December 31, 2011. Beginning January 1, 2012, the conference price goes to $595. Space is limited, and the event is expected to sell out so attendees are encouraged to register and reserve their hotel space soon.
For more information about the Lectora User Conference, please visit http://www.Trivantis.com and stay tuned for more details to be released such as keynote speakers and the welcome reception information.
About Lectora and Trivantis Corporation
Trivantis Corporation produces Lectora, the world's leading e-Learning software, used by most Global 2000 companies. Lectora is sold in over 70 countries and is offered in six languages. Trivantis Corporation also develops Snap! by Lectora, the easy-to-use PowerPoint plug-in e-Learning software that rapidly converts PowerPoint to Flash. CourseMill learning management system and Custom Development Services are also included in the Trivantis family of products. The latest release by Trivantis now includes Flypaper, the leading Flash content creation platform that empowers programmers and non-programmers alike to create, edit, share, track and reuse high-impact Flash and video content. Headquartered in Cincinnati, Ohio, Trivantis Corporation also has offices in Boca Raton, Phoenix, Paris, London and Beijing. Trivantis, Lectora and CourseMill are trademarks of Trivantis Corporation.
Website: http://www.Trivantis.com
Phone: 877.929.0188
Facebook: facebook.com/Trivantis & facebook.com/SnapByLectora
Twitter: twitter.com/Lectora
Blog: trivantis.com/blog & SNAPbyLectora.com/e-Learning-blog
###