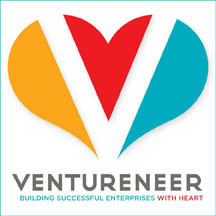 A good image, one that is dynamic and eye-catching, tells the world both what you do and that you are competent and effective
New York (Vocus) September 18, 2009
To reach donors in a down economy, nonprofits need to stand out from the crowd and present a distinct image of their organization, its mission and its values. That's its public image, that's its brand. Every organization has a "brand," whether consciously created or not. To take charge of public image, to make it attractive to donors and members, nonprofit leaders need to understand branding.
"A good image, one that is dynamic and eye-catching, tells the world both what you do and that you are competent and effective," says Geri Stengel, president of Ventureneer.com, which is sponsoring the webinar. "It sets you apart. That's important when it comes to attracting funders."
An organization's name, logo, and tagline are elements of its brand. So, too, are any online posting on social or sector networking sites. Combined, they tell potential members, donors, and clients what an organization does and what it stands for. Getting that image right makes all your marketing more effective.
This free, hands-on webinar is designed specifically for small and mid-sized social service, nonprofit organizations. Hands-on activities will help participants clarify their own brands and the "Ask the Expert" expert will answer specific branding questions.
At the end of this webinar, executive directors, development directors, board members and marketing staff will:

Know what branding is all about.
Be able to review their own brand.
Differentiate their organization from others with similar missions.
Be able to tell their story in a way that appeals to donors.
Use emotion, authenticity and credibility to build their brand.
The webinar will be taught by Howard Levy, principal of the http://redroostergroup.com/ Red Rooster Group. Levy, an award-winning designer of promotional campaigns, has devoted his 17-year career to helping nonprofit organizations launch branding programs, gain visibility, and increase donations.
The webinar, Wake Up Your Nonprofit Brand! How to Distinguish Your Organization and Reach Donors in a Down Economy will take place Tuesday, October 6, from noon to 1:00 p.m. ET. It is one of a series of webinar's hosted by Ventureneer to give nonprofit leaders and entrepreneurs the tools they need to grow and succeed.
To learn more about or register for the webinars, visit http://www.ventureneer.com.
About Geri Stengel
Geri is founder of Ventureneer, an online education and peer support service. An adjunct professor at The New School, she honed her online experience at companies like Dow Jones and Physicians' Online. Geri co-founded the Women's Leadership exchange and is president of Stengel Solutions, a consulting service for social-impact organizations.
About Ventureneer
Ventureneer is a new approach to learning: a blend of traditional, formal instruction with informal, peer learning using Web 2.0 technology to capture and share knowledge. Ventureneer's customized blogs, virtual classes, peer-to-peer learning, coaching, web events and articles help entrepreneurs make faster, better decisions for their enterprises.
###