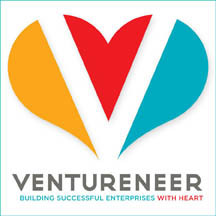 In spite of the gender stereotype men, as well as women, share … at least when it comes to what's working and what's not in their business
New York (Vocus) August 27, 2009
Anecdotal evidence abounds about the importance of resources to small business owners, but little quantitative research exists. Use and Value of Resources by Small Business Owners and Nonprofit Leaders, a soon to be released study from Ventureneer, fills in some gaps about how entrepreneurs learn.
Employees have peers within the company to share with and learn from one another. Entrepreneurs don't, yet they still need knowledge and insights. There are times when turning to employees isn't appropriate, or small business owners just want an outside perspective. According to Ventureneer's preliminary findings, entrepreneurs can get these insights through a combination of formal or informal learning.
Learning styles vary from one small business owner to another, with no one style dominating. To learn some things, business owners want a structured environment such as seminars and workshops, conferences and trade shows, CEO roundtables and mastermind groups (peer-to-peer advisory groups) or MBA and undergraduate classes. Other times, especially when entrepreneurs are struggling, they prefer to use a social environment such as industry networking groups or events.
There's an informal "grapevine" of information when people network. Small business owners talk about tools that help them be more productive and vendors with whom they've had a less-than-positive experience. When they really know the other person well, entrepreneurs may ask for advice about a particular situation.
"In spite of the gender stereotype men, as well as women, share … at least when it comes to what's working and what's not in their business," said Geri Stengel, president of Ventureneer. She added, "You'd be surprised how much can be learned when one entrepreneur tells another about a lesson learned or provides a tip on how to do something more efficiently."
According to a study that appeared in the British Journal of Psychology, sharing personal experiences with others is critical to handling change effectively. Reflecting on what you've learned and gaining insight from peers' experiences broadens everyone's perspective and prepares you for the ups and downs of building a business.
The full report will be available shortly. In the meantime for additional insights read Vistas: Ventureneer's blog:

Survey Methodology
An online survey among small business and nonprofit leaders was conducted from July 7, 2009 to August 14, 2009. To ensure a large and representative sample, in addition to fielding the survey among Ventureneer's contacts, Distribution Partners (Jumpstart Social Media and Network of Integrity for the small business community, and Fiscal Management Associates and Nonprofit Solutions Network Friends for the nonprofit community) promoted taking the survey and Friends (e-giving, Mi Kitchen Es Su Kitchen, The New York Enterprise Report, Red Rooster Group, SBTV, Support Center for Nonprofit Management and Your Best Interest LLC) also helped spread the word. Ventureneer also tweeted and posted requests in appropriate LinkedIn discussion groups, and on Facebook and JustMeans. Four and fifty small business and nonprofit leaders responded.
About Geri Stengel
Geri Stengel is president of Ventureneer, an online education and peer support service, and Stengel Solutions, a strategic planning consultancy. She is currently an adjunct professor at The New School, has served as a mentor for social enterprises entered in business plan competitions at Columbia Business School and New York University (NYU), Stern School of Business, and has served as a nonprofit board member. She honed her online experience at companies such as Dow Jones and Physicians' Online. She cofounded Women's Leadership Exchange, an online and conference resource for women-led businesses.
About Ventureneer
Ventureneer.com provides a new approach to learning that blends traditional formal instruction with informal learning derived from peers using Web 2.0 technology to capture and share this knowledge. Ventureneer's customized Web 2.0 learning environment: blogs, virtual classes, peer-to-peer learning, coaching, web events and articles, provide the necessary support to make faster, better organizational decisions.
###