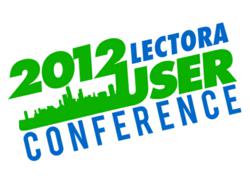 With multiple e-Learning training options offered in one single, central location, attendees can save money and time traveling while they grow the essential skills they need to develop successful, interactive content
CINCINNATI (PRWEB) December 09, 2011
The 2012 Lectora® User Conference announces two new e-Learning training courses surrounding the dates of the upcoming e-Learning conference held May 22-24, 2012. Hosted at the Chicago Marriott Downtown Magnificent Mile in Chicago, attendees can register to attend Instructional Design for the Everyday Developer and FlypaperTM Interactive Flash Development Training.
"These additional training opportunities provide users a chance to gain professional skills not just using Lectora, but also in instructional design and Flash development," said Peter Bray, Chief Marketing Officer at Trivantis Corporation. "With multiple e-Learning training options offered in one single, central location, attendees can save money and time traveling while they grow the essential skills they need to develop successful, interactive content.
In addition to Lectora Fundamentals, Intermediate, Extreme and Lectora Inspire Tools Training, attendees can now also take part in these new e-Learning training sessions:
Instructional Design for the Everyday Developer – Monday, May 21
This enhanced instructional design course provides learners with the techniques and tools to create successful courseware for e-Learning. This course takes attendees straight through the e-Learning process from initial conception through course delivery and evaluation. Participants learn Instructional System Design (ISD) and focus specifically on e-Learning Instructional Design (e-Learning ID) to maximize the effectiveness and appeal of online learning.
Flypaper Interactive Flash Development Training – Tuesday, May 22
Attendees will learn how to quickly create sophisticated and engaging professional-quality Flash animations with Flypaper Flash content creation software without any previous programming knowledge. Key concepts include acquiring the skills to: maximize all of the features in the Design Center, effectively utilize hundreds of quality templates, create custom templates for re-use, use dynamic components to add interactivity, collaborate with others on project delivery, design and development and more.
The eighth annual Lectora User Conference provides exclusive access to keynote presentations, information and insights from e-Learning thought-leaders from around the world, several break-out sessions on various valuable e-Learning topics, and unique networking opportunities with other industry professionals to share best practices and expertise for e-Learning development and implementation.
Early bird conference pricing is available for $495 for those who register before December 31, 2011. Space is limited, and the event is expected to sell out so attendees are encouraged to register and reserve their hotel space soon.
For more information about the Lectora User Conference including training options, please visit 2012 Lectora User Conference.
About The Lectora User Conference and Trivantis Corporation
The Lectora User Conference is a leading e-Learning industry event that attracts professionals from around the world to advance their development skills, increase their e-Learning knowledge and network with other e-Learning professionals. As the flagship product for Trivantis, Lectora® is the world's leading e-Learning software used by most Global 2000 companies in more than 125 countries and is offered in six languages. The Lectora line of e-Learning products includes Lectora Inspire, Lectora Online, Lectora Publisher and Lectora Integrator. Trivantis also produces Flypaper™, the leading Flash content creation platform that empowers users to create, edit, share, track and reuse high-impact Flash and video content. Snap! by Lectora® is the easy-to-use PowerPoint plug-in rapid e-Learning software that converts PowerPoint to Flash. Its sister product, Snap! EmpowerTM Flash interactions builder, enables anyone to create Flash content without having to know Flash programming. To round out the Trivantis family of products, CourseMill is the powerful and affordable learning management system (LMS). Headquartered in Cincinnati, Ohio, Trivantis Corporation also has offices in Boca Raton, Phoenix, Paris and London. Trivantis, Lectora, Flypaper, CourseMill, Snap! by Lectora and Snap! Empower are trademarks of Trivantis Corporation.
Website: http://www.Trivantis.com
Phone: 877.929.0188
Facebook: facebook.com/Trivantis & facebook.com/SnapByLectora
Twitter: twitter.com/Lectora
Blog: trivantis.com/blog & SNAPbyLectora.com/e-Learning-blog
###