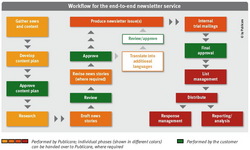 Frankfurt am Main, Germany (PRWEB) December 1, 2008
Email-marketing specialist Publicare has introduced a new end-to-end service package for electronic newsletters: N2R (News-to-Response). Publicare manages the entire newsletter process, from content sourcing to reporting of results. A key focus is on identifying and developing subject matter that reflects the interests of the target group, improving the response and retention rate.
Systematic sourcing of relevant content
To achieve the desired impact, e-mail newsletters require content tailored precisely and consistently to the preferences of the target group. Put simply, it takes the right news to secure the right response. Based on this philosophy, Publicare's email marketing experts develop and implement a newsletter process founded on a thorough analysis of real-world requirements and resources. Using a systematic methodology, the email-marketing specialists identify sources of content within the client organization, and align content with the client's communications goals.
An end-to-end service
Systematic content sourcing is the basis for downstream N2R tasks. Flexible templates and personalization options ensure each reader receives content relevant to their exact needs. To produce and distribute e-mail newsletters, Publicare deploys one of the world's leading e-mail marketing platforms: emarsys xpress. In-depth reports and response analysis enable multi-stage campaigns based on measured interest, and allow informed marketing decisions, ongoing newsletter optimization, immediate verification of campaign results, and the maintenance of up-to-date recipient lists.
Advantages for the customer
Publicare's N2R package is an end-to-end newsletter solution, which significantly lowers the cost and effort associated with coordinating multiple contributors and service providers. It also means consistently high quality. Through a relevance-driven content strategy, N2R enables organizations to exploit the potential for cross-selling and up-selling among existing and prospective customers. And the experts at Publicare have extensive experience of reliably producing complex, multi-lingual newsletters for leading international players. Publicare is a partner with the proven capabilities needed to establish a powerful yet demanding marketing tool in a way that delivers long-term success.
###