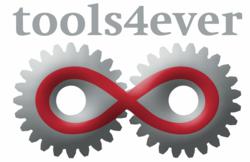 Tewkesbury, UK (PRWEB) October 28, 2011
Tools4ever, a market leader in Identity and Access Management solutions, has published a new whitepaper exploring the topic of Single Sign On software. The paper explores the many facets of the current products available and the benefits this type of solution can offer organisations and businesses in terms of security, efficiency and overall productivity.
Once a SSO solution has been set –up, users only have to log into each application once, after which the SSO solution will automatically log the user in to all applications and systems to which they have authorised access.
The single login can be further simplified and secured by expanding SSO with authentication management. The result is secure access as well as optimum user convenience.
The paper develops to focus on Enterprise Single Sign On solutions, and offers interesting insights into the architecture of Tools4ever's new product E-SSOM, including detailed explanations of its Authentication Management, Fast-User Switching and 'Follow Me' components.
The whitepaper is available to download exclusively through infosecurity-magazine.com. Please click on the link below:
http://www.infosecurity-magazine.com/download/635
For further product info please click below:
http://www.tools4ever.com/products/enterprise-single-sign-on-manager/
Robert Doswell, Managing Director of Tools4ever, comments; "This whitepaper gives more insight into how Tools4ever is listening to demand, and constantly innovating to produce useful solutions that are not only pertinent, but crucial to organisations throughout the globe. As experts in Identity and Access management, we aim to be a useful source for insight and advice into how this technology can improve network security, efficiency and overall productivity of workforces across all sectors".
About Tools4ever
Tools4ever distinguishes itself with a no-nonsense approach and a low Total Cost of Ownership. In contrast to comparable Identity & Access Management solutions, Tools4ever provides a complete solution in several days rather than weeks or months. Partly thanks to this approach, Tools4ever is the undisputed Identity & Access Management market leader, with more than 1.5 million managed user accounts.
Tools4ever supplies a variety of software products and integrated consultancy services involving Identity Management, such as User Provisioning, RBAC, Password Management, SSO and Access Management. For more information, please visit http://www.tools4ever.com.
###