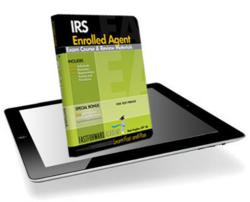 We've worked hard to develop a tax education package that is successful at preparing students for the difficult EA tax test
Orlando, FL (PRWEB) September 07, 2012
To become a federally certified enrolled agent (EA), students must first pass the IRS Special Enrollment Exam (SEE), which consists of three separate exams. 79.3% of students that use Fast Forward Academy's EA preparation course pass this notoriously difficult tax test on their first try.
Students who sign up for Fast Forward Academy's EA tax instruction course receive access to a Comprehensive EA Study Guide, a User-Friendly Test Bank and Practice Exams. There is also an interactive component to the package, which includes real-time reporting, social interaction, analytics dashboard, in-app tools and the opportunity to connect with a community of other students also studying for the SEE.
Fast Forward Academy's Matt McBride is not surprised at the pass rate of its students. "We've worked hard to develop a tax education package that is successful at preparing students for the difficult EA tax test," he states. "By combining traditional study guide elements with a more interactive and fun online environment, Fast Forward Academy ensures that more and more tax professionals are ready to start their career as an enrolled agent every year."
The quality of Fast Forward Academy's tax instruction products is so high that post-secondary institutions have started using them in their programs. So far, Purdue University, University of Kentucky, Auburn University, North Carolina State University and Oklahoma State use Fast Forward Academy's education platform for students enrolled in their tax extension program classes. Additionally, the National Society of Tax Professionals recognizes the value of Fast Forward Academy's EA study package and uses its platform when offering RTRP classes and workshops.
Results are based on a real-time survey that allows for student feedback either once they have completed their EA exam or while they are studying for it. So far, 3,426 students have responded to the survey. Of the 1,221 students who have completed the EA exam, 1,198 passed the SEE, 968 of whom did so on their first try.
Fast Forward Academy offers various pricing bundles for EA product offerings.
Click here to see the latest real-time data from the Enrolled Agent Exam Pass Rate Survey.
Click here to see how Fast Forward Academy can help you pass the SEE tax test.
About Fast Forward Academy
Fast Forward Academy, LLC provides companies and individuals around the world with the tools to help them efficiently manage their professional education needs. The name Fast Forward Academy reflects the scope of our mission—helping students and professionals accomplish more in less time. To realize this goal, we make every effort to provide the most useful and efficient exam prep material in the market place, all designed to help our students Learn Fast and Pass. Our principal focus is to supply rapid training and streamlined continuing education to professionals in the fields of taxation, securities and insurance.
###