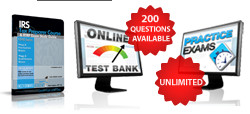 Our student survey has shown high success rates across the board, with a high percentage of students passing the EA, RTRP, and CPA exams on their first attempt
Orlando, FL (PRWEB) November 02, 2012
Fast Forward Academy has developed a new method for helping aspiring tax professionals become an enrolled agen t (EA), a registered tax preparer (RTRP), or a certified public accountant (CPE) and it's proving to be very effective. Titled "best strategies to pass," Fast Forward Academy's new method relies on a hands-on approach, among other methods, to ensure high first-time pass rates on challenging EA, RTRP and CPA exams.
Fast Forward Academy has developed a solid best strategies method for each type of exam; however, there are common features this high quality online tax training education platform has designed to ensure student success. Every tax course offered through Fast Forward Academy is based on a hands-on approach with practice exams that emulate the real thing and opportunities for interaction among the students and with Fast Forward Academy.
This interaction—the community aspect of Fast Forward Academy—is a key component of the best strategies method the online tax training company employs. The Fast Forward Academy community provides a place for students, teachers, associations, consumers, associations and professionals to connect with the finance industry.
Whether it's students looking for mentoring, or a head of a corporation searching for someone to manage the books, membership in the Fast Forward Academy is invaluable. The community also allows students to see how they're doing, compared to test scores from their peers. Students have the opportunity to ask members of the community for assistance, as well, while working through the test exams.
Additionally, a reporting feature is built in to identify weak subjects (and includes filters in the test bank that allows for sharper focus), exam time tracking, and a performance bench marked against community.
Specifically, Fast Forward Academy has created a three-step approach for ensuring student success. Those preparing for EA, RTRP or CPA exams will see the same strategy implemented. First, students have access to a test bank that offers questions resembling those they would see on the actual exam. Second, students can take unlimited practice exams, which emulate the actual exam, and receive a score based on their answers. Third, students can return to the test bank and focus on specific weak areas, identified through the practice exam.
Chief Software Architect, Jim Brashear, believes the best strategies approach serves as the foundation for all of Fast Forward Academy's online tax training offerings. "Our student survey has shown high success rates across the board, with a high percentage of students passing the EA, RTRP, and CPA exams on their first attempt." He continues, "We firmly believe that our hands-on approach, built-in interactive tools, and unlimited access to questions and exams that emulate the real thing is a proven method of success for anyone wishing to become an enrolled agent, registered tax preparer or certified public accountant."
Fast Forward Academy offers specific online tax training courses in preparing for EA, RTRP, and CPA exams.
About Fast Forward Academy
Fast Forward Academy, LLC provides companies and individuals around the world with the tools to help them efficiently manage their professional education needs. The name Fast Forward Academy reflects the scope of our mission—helping students and professionals accomplish more in less time. To realize this goal, we make every effort to provide the most useful and efficient exam prep material in the market place, all designed to help our students Learn Fast and Pass. Our principal focus is to supply rapid training and streamlined continuing education to professionals in the fields of taxation, securities and insurance.