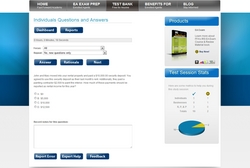 Maitland, FL (Vocus) June 24, 2010
Fast Forward Academy (Maitland, FL) is now serving International customers through its Web site and partnership with Lightning Source. While the market abroad is not huge for the ea review course, there are folks in countries all over the world who represent clients with tax interests in the United States. While the company's ea study products have a limited potential overseas the company feels its other products will have greater demand and that's why it's important to expand the domestic operations in preparation for a large product line expansion.
Rain Hughes, author and co-founder, comments on the new partnership, "There is a global economy out there and we want to be a part of it. With two-thirds of United States currency not even in our own country, there must be a need for tax professionals, accountants, and financial planners abroad who understand and can represent clients in the U.S. market."
Fast Forward Academy's Web site is not only visually appealing with Web 2.0 styling and tools, but features the option to have your study guide shipped internationally. The Web site is a one-stop-shop for ea study materials with a free online test bank, stats to measure preparedness, ea study guides, practice exams, and more. The ea study material is available in many retail outlets and comparison shopping sites, but you can purchase the study guide or enrolled agent software direct - safely and securely - via PayPal, Google Checkout, or Amazon Payments and Amazon Fulfillment will pick, pack, and ship the item.
The IRS Enrolled Agent Exam Course and Review Material study guide developed by Fast Forward Academy focuses only on the key areas needed to pass special enrollment examination and can be shipped to any country worldwide. There are thousands and thousands of pages of the US Tax Code and hundreds of separate IRS forms, form instructions, and publications containing information that may appear in the SEE so it is important that students purchase a solid ea study course from a company with expertise. The ea study guide search is over, Fast Forward Academy's course contains all the necessary information, organized and condensed into one efficient package with guarantees, tools, service, and support to back it up.
About Fast Forward Academy
Fast Forward Academy, LLC provides companies and individuals around the world with the tools to help them efficiently manage their professional education needs. The name Fast Forward Academy reflects the scope of our mission – helping students and professionals accomplish more in less time. To realize this goal we make every effort to provide the most useful and efficient exam prep material in the market place, all designed to help our students Learn Fast and Pass. Our principal focus is to supply rapid training and streamlined continuing education to professionals in the fields of taxation, securities, and insurance.
###