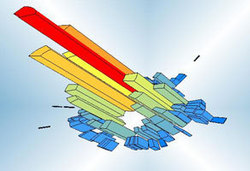 Our visualization technology is unique to the market
Chicago, IL (PRWEB) September 21, 2008
Eaagle Software announced the availability of Full Text Mapper (FTM), a desktop software program that provides analysis of unstructured data. Eaagle Software brings together advanced text mining technology and desktop computing. "Our philosophy is that text mining and data analysis tools should be easy-to-use and not require any particular skills," states Yves Kergall, president and CEO of Eaagle. "Our software doesn't require any setup or predefinition to begin discovering knowledge. Simply highlight the information, launch FTM, and instantly visualize your data to begin your analysis...it is that easy."
FTM is the result of years of technological development in the areas of text mining within its parent company, Triviumsoft. "Our clients demanded that we provide an easy way for them to analyze full text responses to survey questions and we delivered," says Kergall. "The FTM technology allows clients to make extensive use of open-ended questions to elicit additional information from employees during surveys."
Full Text Mapper reads and maps unstructured data residing in Excel, Word, PowerPoint, Text, HTML, and PDF files. "Our visualization technology is unique to the market," says Pierre Kergall, COO of Eaagle. "Coupled with the fact that you do not have any setup or predefinition, Eaagle Full Text Mapper is unlike anything else available on the market today."
FTM is designed for knowledge workers dealing with large volumes of text in their daily work. The target market includes professionals in the fields of marketing, communications, consulting, research, human resources, education, law, and politics. "Full Text Mapper brings speed and productivity to the text mining arena. With FTM you can now discover the content of thousands of pages of text without reading a single line," says Kergall. "Wherever knowledge needs to be derived from unstructured data...FTM can help,"
About Eaagle:
Eaagle is a global provider of specialized data and text mining software that empowers organizations to leverage full text information and transform it into a strategic asset. Our breakthrough technologies enable customers to visualize and analyze unstructured information and discover knowledge.
About Triviumsoft
Founded in 1992 by mathematician Michel Authier and Stanford University Professor Michel Serres, Triviumsoft is a leading provider of talent management software solutions. Triviumsoft solutions help Fortune 500 organizations manage and develop their talents. Triviumsoft Group partners include world class consulting firms such as Accenture and Capgemini.
Press Contact
Tiffany Oxley
Eaagle
http://www.eaagle.com
(847) 464-2484
###