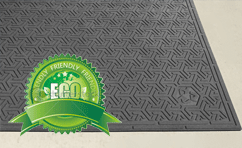 When asked how he thinks customers will like the promotion, Blumberg simply smiles and shakes his head. "They won't find a better deal online. And if they do, we'll match it."
Rockville, MD (PRWEB) November 09, 2011
There has never been a better time to buy commercial floor mats and other property management products. In the spirit of autumn, Eagle Mat and Floor Products now offers Free Shipping and a 100% Price Match Guarantee on all products ordered online!
Shoppers are invited to browse the commercial matting supersite for a variety of matting products at guaranteed lowest prices. Whether buying for commercial or residential use, the flooring experts at Eagle Mat guarantee you will not find a better value anywhere else on the Web.
The demand for entrance mats and other safety products reaches a peak in autumn. Rain and snow accumulation can be unpredictable, leading to the unexpected buildup of dirt, moisture, and debris in many of the most highly trafficked areas of a facility. With the holidays just around the corner, businesses must take proactive measures now to prevent hazardous conditions from forming in entryways, lobbies, and other heavily trafficked areas.
Eaglemat.com proudly represents over 30 years experience in the commercial matting industry, offering only the highest quality products from the industry's most trusted manufacturers. Property owners and managers may now retrofit their facilities with safety matting at prices that are simply unbeatable.
"We always offer our online customers a 100% Price Match Guarantee, and we are excited to now offer Free Shipping as well," Eagle Mat CIO Jon Blumberg states. "We are committed to helping businesses better serve their customers by providing matting and facility management products at unbeatable low prices."
A family owned business, Eagle Mat and Floor Products has served the Maryland, Washington D.C., and Northern Virginia areas since the early 1980s. The company launched Eaglemat.com in June of 2011 to extend products and services to American businesses on a national level. Though an online store, Eagle Mat remains attentive to the needs of their national customers.
"Our local clients are like family," Blumberg explains. "We are attentive to their needs, and we provide them products and services that are unparalleled. With Eaglemat.com, we aim to deliver that very same value to customers on a national level."
When asked how he thinks customers will like the promotion, Blumberg simply smiles and shakes his head. "They won't find a better deal online. And if they do, we'll match it."
The Eaglemat.com 100% Price Match Guarantee applies to each of the website's products, including a rich line of eco-friendly mats made various different materials like all natural coconut husk fibers, recycled PET drinking bottles, and recycled tire rubber. The eco-friendly or "Green mat" selection is extensive and competitively priced, helping project managers to achieve and maintain specific LEED certification requirements.
The new Free Shipping promotion is expected to bolster interest in elevator pads, as well. Eaglemat.com helps businesses to design custom elevator wall protection pads that are sure to fit any elevator cab. Those having trouble measuring their elevator for protective pads may call Eagle Mat toll free to request expert customer service, ensuring a perfect fit every time.
More information on the Free Shipping promotion, as well as the 100% Price Match Guarantee, is available online at Eaglemat.com. Shoppers must hurry, as the autumn Free Shipping promotion runs from now until November 30th. Readers are encouraged visit Eaglemat.com or call toll free 1-877-333-1018 for more information.
###