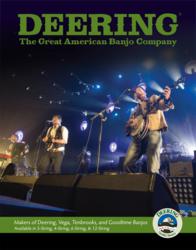 We are delighted and honoured to be invited to attend this event and have the opportunity to meet some of Mumford & Sons fans and show them how easy it can be to start playing the banjo.
(PRWEB UK) 28 June 2013
The UK and Europe's award winning Banjo specialist shop Eagle Music are said to be delighted with this prestigious invitation by Mumford & Sons to unlock the secrets of the banjo to their fans. The event is sold out, 25,000 fans are expected to attend this special Mumford & Sons Gentlemen of the Road Stopover. Eagle Music will be accompanied by Jamie Deering, artist relations manager from the Deering Banjo Company, California, USA.
Eagle Music Shop founder Steve Noon commented, "We are delighted and honoured to be invited to attend this event and have the opportunity to meet some of Mumford & Sons fans and show them how easy it can be to start playing the banjo. A wonderful feature of the 5 string banjo is that it is tuned to a 'G' chord, which means you can produce music by just brushing a finger across the strings, then using just one finger on the opposite hand, you can play music!
"We shall be teaching the Mumford fans using the Deering DVD 'Learn to Play the Banjo with Just 2 Fingers'. We love the banjo and as musicians we try to put back into music more than we take out. One of our company aims is to introduce as many people as we can to the wonder and joy of playing the banjo".
Eagle Music enjoys a close working relationship with Deering, the Great American Banjo Company who are the makers of Winston Marshall's Eagle II 5-string banjo that he plays in concerts throughout the world. Winston's Eagle II banjo is fitted with the revolutionary electro acoustic Kavanjo banjo pickup.
The Eagle II banjo was given its name in appreciation of Eagle Music Shop maintaining the status of the World's #1 Deering banjo dealership which they have retained now for almost a decade. The Serial #1, first off the production line Eagle II Banjo was presented to Eagle Music's founder Steve Noon, by Greg and Janet Deering at Eagle's 'Banjo 1000' event on March 20th 2010 in celebration of Eagle Music's worldwide sales of over one thousand Deering Banjos.
Matt Chaffer, one of Eagle Music's banjo teachers who will be teaching Mumford fans how to play the banjo at the event commented "Eagle Music will be loaning a Deering Goodtime banjo to anyone interested in taking a lesson to play the banjo, we shall also have on display the Eagle II banjo as played by Winston Marshall and also some Deering Sierra professional bluegrass banjos as played by myself and many other professional banjo players throughout the world. We shall also have in our teaching booth banjo spares and accessories for any of the fans that may need them at the festival".
Emerging from West London, the folk rock band Mumford & Sons were formed in December 2007, since that date they have taken the world by storm producing world number one hit singles and had a number of award nominations including winning the Grammy Award for 'Babel' the album of the year in 2013, also in 2013 they won a Brit Award for the Best British Group. A unique feature of the band is that Winston Marshall is a banjo player.
The band consists of Marcus Mumford (lead vocals, guitar, drums, mandolin), Ben Lovett (vocals, keyboards, accordion, drums), Winston Marshall (vocals, banjo, guitar, resonator guitar), and Ted Dwane (vocals, string bass, drums, guitar).
Mumford & Sons present their Gentlemen of the Road Stopovers which are a global series of events in small cities and towns around the world. To quote the Mumfords "The spirit of the event is a music festival that celebrates local people, food and culture, where everyone pitches in and everybody gets something back".
For more details of the 2013 Mumford & Sons Gentlemen of the Road Stopovers, please follow this link http://www.gentlemenoftheroad.com/stopovers/
Company information:
Eagle Music is established as the UK and Europe's largest acoustic stringed instrument specialist and banjo shop. The Huddersfield based company is the select dealership for Mainland USA and Ohana Ukes. Eagle are the world's number one dealership for the Deering Banjo Co. USA. The selected Premier banjo shop for OME, Prucha, Stelling and Gold Tone. Eagle are presently and have also been the officially appointed UK main dealership for Nechville Heli-Mount Banjos for the past five years.
Musician and founder Steve Noon has celebrated more than 40 years in the musical instrument business both as a professional banjo, mandolin, guitar and ukulele player. He is the present folk instrument consultant for The Tanglewood Guitar Company and a prolific collector and respected UK authority on vintage banjos and acoustic stringed instruments.
For Deering Banjos visit http://www.eaglemusicshop.com
Contact:
enquiries[at]eaglemusicshop[dot]com
Phone: +44 (0)1484 661460
Eagle Music Shop
1 St Pauls House
Brooke's Mill
Armitage Bridge
Huddersfield
West Yorkshire
HD4 7NR, UK