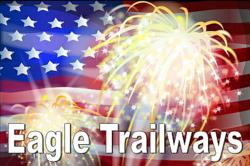 (PRWEB) July 02, 2012
Irving, Texas: The City of Hurst has again chosen Eagle Trailways, the premier bus charter and bus rental company in the Dallas-Fort Worth area, as a key service provider for the city's 11th annual Stars & Stripes celebration this coming Wednesday.
The Department of Parks and Recreation of Hurst, Texas, has contracted with Eagle Trailways, Inc. of Irving, Texas to provide a bus shuttle service from the North East Mall to the Stars & Stripes event area at Hurst Community Park, at the southwest corner of Precinct Line and Pipeline Roads that will be free of charge for those using the service.
Stars & Stripes will start at 5 p.m. and run until 10 p.m. Music will begin at 5:30 pm with Sonny Burgess and continue with The Spazmatics at 6:45 p.m. and Emerald City at 8:00 p.m.
The Children's Area will be located on the West Lawn, featuring large inflatable activities. No pets, RV's or trailers will be allowed on site.
For more information on Stars & Stripes, call the Parks and Recreation Department at 817-788-7320.
The fireworks display will start at approximately 9:30 p.m.
Eagle Trailways will provide free shuttle service from 5pm to 11pm.
Hurst has a population of 39,000 and is located in the heart of the Dallas-Fort Worth metropolitan area, 10 miles from downtown Fort Worth and 25 miles from downtown Dallas. The convenient location allows residents to live in a safe, well-maintained community and be just minutes away from two of the largest cities in Texas.
________________________
ABOUT EAGLE TRAILWAYS:
Eagle Trailways is a privately owned transportation company located in Irving, Tx. and has been serving Dallas-Fort Worth since 1979. They're members of Commercial Vehicle Safety Alliance, American Bus Association, United Motor Coach Association and others.
To get more information for a bus charter or rental in the Dallas-Fort Worth area visit Eagle Trailway's website.
Eagle Trailways, Inc.
1634 E. Irving Blvd.
Irving, TX 75060
(800) 829-8687
http://www.eagletoursinc.com