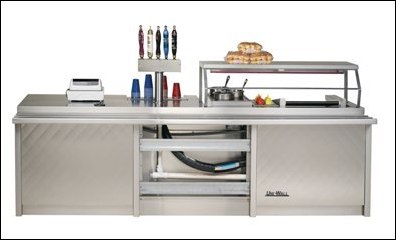 Clayton, Del. (Vocus) June 13, 2007
The new UniWall® counter system from the SpecFAB Division of Eagle Foodservice Equipment is a revolutionary step forward in simplifying kitchen and other foodservice installations. The unique, powerful turnkey design of the UniWall® system integrates retaining wall elements with counters, thereby eliminating many of the problems and installation delays that foodservice projects typically face in their final stages.
UniWall® allows specifiers or designers to lay out counters, serving lines and bars that are NSF-approved with factory pre-plumbed and/or UL-listed wiring options. The heart of the UniWall® system is its 12-gauge galvanized stud wall with horizontal utility chase openings for running beverage, plumbing and electrical lines - all accessible through easy-access front panels. Each prefabricated counter-and-wall system is designed, wired and plumbed for water, sewer and electricity according to each installation's specific needs. The UniWall® system also serves as a structural wall element, replacing the need to build retaining walls at the job site.
Because each UniWall® system is designed and built to individual project specs, installation time at the job site is dramatically reduced. This also means that the need to retain expensive specialized electrician and plumbing labor to be on hand during the installation process is significantly reduced. Moreover, since UniWall® is classified as equipment, it qualifies for a reduced amortization schedule as compared to onsite construction.
Eagle's UniWall® counter system is an ideal solution for many foodservice installations such as bars, chef preparation stands and concession stands. When used in dishwashing stations, UniWall® eliminates the need for building a permanent wall supporting the dish pass-through area. When used in cafeteria serving lines, UniWall® acts as a great support for tray slides. UniWall® systems have been installed in schools, theaters, casinos, sports facilities and restaurants. In fact, practically any installation where there is a need to run plumbing, electrical or mechanical lines in fabricated equipment is a natural application for the system.
The "plug and use" aspects of UniWall® deliver other benefits, too. All piping and wiring is already completed and positioned within UniWall's specially designed channels, thereby eliminating the need to drill holes in the equipment onsite. On-site labor technicians hook up the connections with the main electrical and plumbing service, thereby simplifying as well as shortening the installation process. (It also reduces the chance of making errors in the wiring and plumbing.)
Since Eagle's UniWall® design provides such easy access to the conduit and piping, equipment serviceability is improved. Plus, if future plans ever call for changing the equipment floor plan of the kitchen space, UniWall® is easy to move and can be repositioned and reused, with no need to build new retaining walls.
The sleek aesthetics of the UniWall® system represent a further improvement over traditional retaining wall structures. The durable construction featuring type 304 stainless steel components is more attractive, with component dimensions able to be matched far more precisely (no more out-of-plumb areas to contend with as so often happens when fitting components to wood or concrete retaining walls). Eagle also offers its own custom millwork and other aesthetic detailing - including Wilsonart® laminate, Corian® solid surface, overshelf systems, sneeze guards and drop-in mechanical units such as food wells - to deliver distinctive designs according to each customer's preferences.
The UniWall® counter system is the latest innovation from Eagle's SpecFAB Division. Established more than 10 years ago, SpecFAB's mission is to fill the gap between lower-cost but less-precisely matched standard equipment, and high-cost "wish-and-wait for" highly customized solutions. UniWall® and other proprietary systems help compress lead times in the design and fabrication process, while at the same time providing full functionality and notable cost efficiencies.
For more details on the new UniWall® counter system or other innovative equipment solutions provided by Eagle's SpecFAB Division, contact Dennis Clark (ext. 3043) with sales inquiries, or Eagle's Marketing Department (ext. 3129) with inquiries pertaining to marketing support. Telephone: (800) 441-8440 or (302) 653-3000. FAX: (302) 653-2065. Web site: http://www.eaglegrp.com.
Contact:
Lynda Donavon
800-441-8440 or 302-653-3000 ext 3027
###