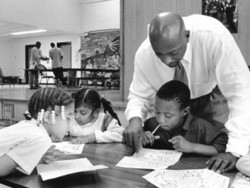 Los Angeles, CA (PRWEB) June 23, 2010
Nationally recognized education leader and social entrepreneur, Earl Martin Phalen is being honored by the entertainment industry at the BET Awards.
Owned by media giant Viacom and distributed to over 104 million households in the United States, Canada and the Caribbean, the BET Awards recognize outstanding achievement in entertainment and professional sports.
The entertainment industry will present Phalen with the Shine a Light / Local Hero Award for impacting communities and being an education hero.
Phalen was born into the foster care system, but surprisingly graduated from Yale University, Harvard Law School and now leads 25,000 doctors as the CEO of Reach Out and Read.
Reach Out and Read is comprised of 25,000 pediatricians in 4,500 hospitals across the nation. Pediatricians "prescribe reading time" to 3.9 million children annually. It is one of the few medical nonprofits that impact 33% of all low income mothers and infants in the United States.
In addition to leading Reach Out and Read, Phalen is also the Founder of Summer Advantage USA. Recognized by President Obama's United We Serve Initiative, Summer Advantage USA engages thousands of children each summer in learning and physical fitness.
Prior to his current endeavors, Phalen led a summer and after school learning program that grew from 15 children to over 15,000 scholars in five states.
Phalen notes regarding the BET Award, "This award is a testament to leaders like Dr. Robert Needlman, the founder of Reach Out and Read, who tirelessly support a brighter future for children across the country. When we come together to improve our communities, phenomenal things can happen. I want to also personally thank my family, my mentor Professor Charles Ogletree, and BET CEO Debra Lee for their commitment to our children and families."
Hosted by Oscar nominee Queen Latifah, The BET Awards will be held at the
Shrine Auditorium in Los Angeles and will air June 27, 2010 at 8pm.
For award verification contact Deborah Byrd at BET.
BET is owned by Viacom Inc. and distributed into 104 million households in the
United States, Canada and the Caribbean. The BET Awards Show recognizes excellent in
entertainment and professional sports. It is the #1 awards show on cable television.
For award verification contact Deborah Byrd at BET. http://www.bet.com
Reach Out and Read is comprised of 25,000 pediatricians in 4,500 hospitals across
the nation. Pediatricians "prescribe reading" to 3.9 million children annually. It is one of the few
medical nonprofits that impact 33% of all low income mothers and infants in the United States.
Earl Martin Phalen is the CEO. http://www.reachoutandread.org
Recognized by President Obama's United We Serve Initiative, Summer Advantage USA engages thousands of children each summer in learning and physical fitness. Enrollment in Summer Advantage USA makes a 5 month difference in learning achievements for students. Earl Martin Phalen is the founder. http://www.summeradvantage.org
###