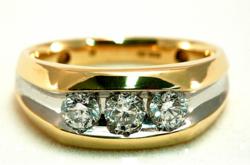 Port Washington, NY (PRWEB) June 20, 2013
Even though diamonds are considered to be very close to the feminine gender, men have certainly come to adore the delicacy of the rarity that the gems have to offer. Carrying immense price tags, men usually deem it best to give diamonds as gifts to the opposite gender. Throughout the course of history, men have been reported to harbor immense fondness for the delicacy, not only for their women, but for themselves, which gives rise to the question, can men wear Diamond jewelry? Shedding light on the history of men and diamonds while answering every associated question, the diamond and jewelry expert, Earl Grenfell has published the latest edition to this article series on his website.
The expert begins the article by introducing the worth and the social status that diamonds entail. He then kicks off by explaining the prominent personalities throughout history that promoted diamond usage amongst men. King Louis of France is an excellent example. Leveraging the gem only to the royal family, the king made it clear that only men of immense social status are worthy of the gem's possession. But obviously, that time is long gone and in the status quo, men need to look different from women.
Earl then explains the special features of diamonds that men should choose in order to adorn the delicacy. The design and color of the jewelry should reflect your personality in an elegant and classy manner. For those in businesses and executive positions, plain, less glossy rings would really have an excellent impact.
To read the complete article on "Can Men Wear Diamond Jewelry"- By Earl Grenfell, visit: http://earlgrenfell.com/can-men-wear-diamond-jewelry-by-earl-grenfel/
Stay up to date with the latest pieces of fine custom made jewelry on our Facebook page: http://www.facebook.com/pages/Spellbound-Fine-Jewelry-and-Watch-Repair/115295938561142
About Earl Grenfell:
Earn Grenfell is a renowned Diamond Jewelry expert with over 25 years of accumulated experience. Based in Port Washington, NY, Earl has been a pioneer in high end jewelry designing and manufacturing and is the creator of the famous company Spellbound Fine Jewelry and Watch Repair. Graduating from the Fashion Institute of Technology in Jewelry Design back in 1985, Earl has dominated the Long Island, NY Diamond Jewelry market ever since.
Contact:
Earl Grenfell
290 Main Street
Port Washington, NY 11050
516-767-7700
info (at)earlgrenfell(dot)com
http://www.EarlGrenfell.com