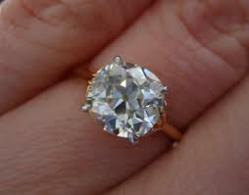 Port Washington, NY (PRWEB) June 18, 2013
Earl Grenfell's Spellbound Fine Jewelry and Watch Repair earned him a significant bit of fame, just with the immaculate services that he provided. With a large clientele, the expert harbored a large fan following that continually forced him to interact with the public through the internet. Updating his website on a regular basis, Earl now writes articles based on his experience in the field, just for the enlightenment of his fans. In the second edition of the two-article series on Antique Cut diamond jewelry, the expert discusses the several different characteristics of this respective genre of diamonds.
Starting again with a short historical description, the writer explains that during the 1800s, a diamond always belonged to a royal family, who were thought to be worthy of possessing one. In the years that followed, trends and social standards shifted and finally diamonds were being praised and desired by every class of the society. To effectively meet this rise in demand, there were several different cuts and types of diamonds that were introduced in the local markets. Perhaps the best one was the antique Old mine cut.
The expert explains that although this antique cut was similar to the European version, it had round corners and squares in the middle, loaded with delicate girdles and decorated finely with exquisite tints. The color that was given used to be completely different from the colors of today, nothing artificial, just pure, stupendous masking.
Further developments in the antique cut paved way for the Rose cut to follow, which was then replaced by the modern cuts that exist today. But the beauty and delicacy that an antique cut diamond harbors, is beyond imagination in the jewelry arenas of today.
To read the complete Article-2 of the Antique Cut diamond Jewelry series – By Earl Grenfell, visit: http://www.EarlGrenfell.com
Stay up to date with the latest pieces of fine custom made jewelry on our facebook page: http://www.facebook.com/pages/Spellbound-Fine-Jewelry-and-Watch-Repair/115295938561142
About Earl Grenfell:
Earn Grenfell is a renowned Diamond Jewelry expert with over 25 years of accumulated experience. Based in Port Washington, NY, Earl has been a pioneer in high end jewelry designing and manufacturing and is the creator of the famous company Spellbound Fine Jewelry and Watch Repair. Graduating from the Fashion Institute of Technology in Jewelry Design back in 1985, Earl has dominated the Long Island, NY Diamond Jewelry market ever since.
Contact:
Earl Grenfell
290 Main Street
Port Washington, NY 11050
516-767-7700
info(at)earlgrenfell(dot)com
http://www.EarlGrenfell.com