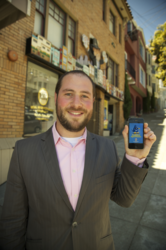 My client closed on a beautiful 2 bedroom unit in Noe Valley just two days before its scheduled availability, thanks to EarlyBird Apartments.
–Robbie Christian, SF Relocation Agent
San Francisco, CA (PRWEB) June 13, 2013
The 30 Days' Notice tenants give before they move is valuable information for professional relocation agents when competing for great apartments on behalf of their clients. Now the EarlyBird Apartments iPhone app can access the same apartment listings the pros use to get an advantage over apartment hunters who rely only on Craigslist, Trulia or Zumper.
Founder J.J. Panzer, a professional property manager for over ten years, noticed that there were few practical solutions for prospective tenants to discover quality apartments in San Francisco, when a professional relocation agent called him to find out if there were any apartments available that he had not yet posted to Craigslist. For years, Panzer's front office staff gave away this information to friends, VIP tenants and agents, but last year they realized that broadly promoting access to their "30 Days' Notice" list could be used to help build even greater demand for upcoming units. As a result, Panzer's team built an email subscription service named "EarlyBird Alerts" and members paid $49 each month to receive access to the list, which was updated as soon as one of his tenants submitted their "30 Day Notice" to move. After a year of successful testing, Panzer's team decided to build an iPhone App to make access to the EarlyBird Alerts more convenient.
"Craigslist is great for finding apartments now, but EarlyBird Apartments is great for finding apartments a month from now." – Founder, J.J. Panzer
The ability to search available apartments a month ahead of time can save apartment hunters big money. People from out of state have been so desperate to secure housing that some have been willing to take possession of apartments up to a month or more sooner than they needed, just to know they had a place to live when they arrived to begin school or a new job. Until recently, Apple, Google, Facebook and Twitter have paid professional relocation agents to search for apartments for their new hires, but now most technology companies are shifting the significant expense onto their employees.
"My client applied for a beautiful 2 bedroom unit in Noe Valley just two days before its scheduled availability to the public. Thanks to EarlyBird Apartments, he found and closed the deal before anyone on Craigslist or Zumper had a chance to see it."
– Robbie Christian, S.F. Relocation Agent
EarlyBird Apartments lists properties from San Francisco's premier property management firms, including Gaetani Real Estate, Dewolf Realty, Bay Property Group, S&L Realty, and Landmark Realty. The app manages future inventory availability from a rapidly growing portfolio (20,000 units at launch) of all sizes and budgets. Vetted professional property managers in San Francisco who manage 50 units or more can submit their future available units to the app at no cost. The app is $49, but is available for free until June 30th.
EarlyBird Apartments is available at the iPhone App Store and for Android at Google Play.
Company Information:
EarlyBird Apartments is developed by Real Management Company (RMC) in San Francisco. Established in 1980, RMC has been honored multiple times by the San Francisco Apartment Association, the Professional Property Managers Association, and The Executives Association of San Francisco for leadership and exceptional service to the industry and community. President, J.J. Panzer, CRE, grew up in RMC, the property management business his father, Joel Panzer, founded over 30 years ago. J.J. has an MBA from Santa Clara University and a bachelor's degree in psychology from the University of California, Berkeley. The app was developed by tech start-up veteran Antonio White, principal of AWMAsf.
For more information, visit http://www.EarlyBirdApartments.com.