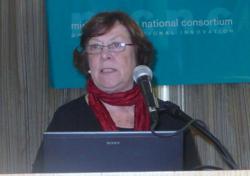 We always believed that making our students feel empowered, high school faculty holding high standards, and "stick-to-it-iveness" were the factors behind our success. It is wonderful to know that the NCREST study has proven our beliefs to be correct
New York, NY (PRWEB) July 19, 2011
What experiences make students, especially those with low academic skills when entering high school, more likely to succeed in college? This was the basis of a recent study undertaken by the National Center for Restructuring Education, Schools and Teaching, Teachers College, Columbia University (NCREST).
The study looked at the Middle College National Consortium (MCNC) and its network of schools whose overarching mission is to improve college access for traditionally underserved students. These schools are located on, or near, college campuses and allow students to take college courses along with their high school classes
This new study, using the Middle College-Early College (MC-EC) High School model based on MCNC Design Principles, was conducted to determine what practices are most predictive of academic success. Three hundred 12th graders from 10 MC-EC schools were involved in the study.
The results showed the following factors are most predictive of academic success.
1. Students who believed that their high school teachers had high expectations of them had .49 higher GPAs than those who did not.
2. Students with a strong sense of belonging had GPAs that were .36 higher.
3. Students who indicated that they persevered in their college courses had GPAs that were .35 higher
4. Students who felt they persevered or were engaged in high school courses had GPAs .32 higher
5. Students who felt their college classwork was rigorous had GPAs .21 points higher than those who did not find it rigorous.
These are the basic principles governing the MCNC schools, their instructional leaders, administrators and students. The NCREST study of MCNC schools found that in the 2007-2008 school year, where data was available, of the students who took college courses 90% passed. Additionally, students had accumulated 27 college credits by the end of their senior year.
Cecilia Cunningham, Executive Director of MCNC says, " We always believed that making our students feel empowered, high school faculty holding high standards, and insisting on hard work and "stick-to-it-iveness" were the factors behind our success. It is wonderful to know that the NCREST study has proven our beliefs to be correct".
Middle College National Consortium is a pioneer in developing small schools on college campuses where high school students, especially those who have been previously underserved by their former schools, can earn both a high school diploma and either an Associate's degree or transferable college credits upon graduation. MCNC, headquartered in New York City, is a leader in the movement to establish and sustain dual enrollment, in high school and college, as a viable and necessary educational model.
To get a comprehensive overview of the history, design principles, current work and achievements of the Middle College National Consortium, please visit us at http://www.mcnc.us.
Contact information
Tony Hoffmann
Middle College National Consortium
http://www.mcnc.us
718-361-1981 X6
###