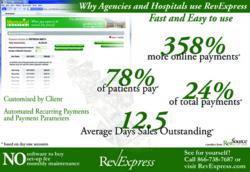 Patients now have an easy to use solution to pay online.
Muncie, IN (PRWEB) April 24, 2012
Healthcare facilities continually strive to provide their patients with the very best services and State-of-the-Art Technology in the most comfortable setting possible. HRMG has further enhanced the patient experience for its clients by offering the new patient-friendly payment solution, RevExpress. RevExpress is personalized for each patient and very easy to use. Each personalized website is pre-populated so registration is not required. Payments can be made in less than a minute! Within seconds, patients receive payment confirmation and they have email and phone access to ask any questions they have regarding the statement.
"In the first six weeks of using RevExpress with our client, we have seen a ten-fold increase of online payments. This has proven to be a convenience for patients and staff. Patients now have an easy to use solution to pay online. Our client's staff and ours have become more efficient because they are experiencing less manual payment processing and are able to assist in other areas needing attention," said Patrick Nixon, vice president of HRMG. "RevExpress was chosen as the online payment solution because of its ease of use and the appeal it has with our clients. Being more efficient and cost effective is a bonus to all."
RevExpress offers agencies, providers and their patients the best of all worlds. It is fast and easy to use, and accelerates recoveries and revenue without adding staff. RevExpress also includes the ability to have embedded advertising links to the service lines the hospital is promoting in the community, further enhancing the personal relationship between the provider and their patients. For more information, visit http://www.revsourcesolutions.com.
About RevSource Solutions, LLC
RevSource Solutions, LLC specializes in providing innovative, integrated solutions to maximize your revenue. RevExpress is the fast and easy to use patent-pending, personalized, automated payment solution which delivers revenue more efficiently and effectively. The solution is ideal for healthcare institutions, collections/first party, collection agency, collection law firms, billing companies, utilities, financial institutions, and charities. For additional information, visit: http://www.revsourcesolutions.com/RevExpress.
About HRMG
HRMG, a California-based early out self-pay AR Management Company, services healthcare clients throughout the United States. HRMG provides the most progressive, patient-friendly solutions for healthcare clients.
Media Contacts:
Paul G. Smith
RevSource Solutions, LLC
765/744-3443
pauls(at)RevSourceSolutions(dot)com
Pat Nixon
HRMG
800/462-6341 ext. 121
pnixon(at)cmrefsi(dot)com