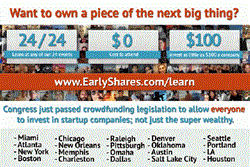 "We're proud and humbled by the support and enthusiasm our investors have shown in this first Series A round," said Temes. "It's a true reflection of the excitement happening in the equity-based crowdfunding industry."
Miami, Florida (PRWEB) August 03, 2012
EarlyShares, a leading platform provider supporting access to equity-based crowdfunding for start-up companies, today announced the completion of its own first round of Series A funding in the amount of more than $1.15 million dollars.
Co-founders Maurice Lopes and Stephen Temes are encouraged by the strong showing by EarlyShares investors. This support speaks directly to the increasing popularity of crowdfunding as a means to support today's emerging start-ups and small businesses, as well as the need for a simple yet powerful platform like EarlyShares to access this crucial funding.
Crowdfunding, in simple terms, allows new businesses to draw capital from a small group of passionate investors—a crowd of supporters who recognize the value of the start-up company. Through the wide reach of social media and the Internet, entrepreneurs today can easily connect with potential investors. Add to that the power of microfinance, and it becomes a capital raising technique with huge potential. EarlyShares offers a powerful platform where entrepreneurs can pitch their business ideas, spread the word about their pitch and connect with interested investors registered on the site.
"We're proud and humbled by the support and enthusiasm our investors have shown in this first Series A round," said Temes. "It's a true reflection of the excitement happening in the equity-based crowdfunding industry."
The foundation for EarlyShares is made even stronger by the recent appointment of two key investors to its board of directors -- Bruce Langone and Stephen Cornick.
"The Langone family has been very active in helping companies that support American job creation for a better, more sustainable America," Temes said. "And, Stephen Cornick brings an intensive knowledge of technology and venture capitalism to our team. We're beyond fortunate to welcome them both to our board."
EarlyShares has been steadily building its membership base of potential investors and companies seeking funding. EarlyShares has the ability to cater to the needs of everyday American investors. Those seeking to utilize equity-based crowdfunding have access to a comprehensive and easy-to-use platform.
"We know we are playing an integral role in the shaping of the equity-based crowdfunding movement," said Temes. "It's exciting to say the least. Our expertise provides the foundation that the ideal equity-based crowdfunding platform requires."
EarlyShares is currently on a 24-city U.S. Educational Road Show, making stops at major technology hubs and gatherings like Chicago's TechWeek, to spread the word to local investors and entrepreneurs about the benefits of equity-based crowdfunding. The company also recently co-sponsored the TechLaunch start-up competition by providing the winning company an opportunity to raise an additional $250,000 on its platform. Find out more at EarlyShares.com.
About Our Founders
Maurice Lopes, CEO and co-founder, of EarlyShares, serves on the Governing Board for the Crowdfunding Professional Association. After learning that the lunches at his daughter's school were sub-par, he began providing healthy meals to the school. Today Lopes' company, Miami-based Kiddie Catering, provides more than 10,000 meals per day to schools in Miami-Dade County, Broward County and Polk County Florida and employs 27 people. Kiddie Catering began with one school and two employees.
Co-founder Renee Caputi, also serving as chief legal counsel for EarlyShares, has over 25 years of experience in the financial services industry working with investors and entrepreneurs across the globe to create successful growth and estate planning strategies. She has previously served as Premier International Wealth Management Consultant for HSBC Bank and currently serves on the Governing Board for the Crowdfunding Professional Association.
Co-founder Stephen Temes is a seasoned investment pro with over two decades of experience in the equities markets and in trading options. As founder and director of Lincoln Capital, LLC, where he managed a team that generated $7 billion trading S&P futures, options, and equities, Temes brings with him an intricate understanding of risk management.
###
EarlyShares.com
1200 Brickell Ave. Suite 1410 Miami, FL, 33131 | (786) 565-3344