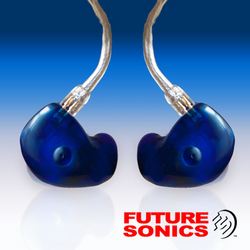 Future Sonics has everything I want so that the music sounds really incredible on stage or just listening to my music player and I don't need to make it too loud.
Bristol, Pennsylvania/San Francisco, CA/Lake Buena Vista, CA (PRWEB) February 5, 2008
Singer, actress superstar, Miley Cyrus performs on her sold out "The Best of Both Worlds" tour with Future Sonics Ear Monitors® brand personal monitors and supporting the company's new "Bigger Sound @ lower volume™" campaign to help educate audiences about the importance of proper listening for the "iPod® Generation."
Future Sonics has teamed up with H.E.A.R.® along with other performers, engineers and audiologists to promote the new campaign. Vish Wadi, monitor engineer for Cyrus, reports that the Disney star of Hannah Montana realized how much she was missing from other products once she made the switch to Future Sonics Ear Monitors®. "This is the sound that Miley was hoping for and Marty Garcia's team at Future Sonics delivered." Like her father, Billy Ray Cyrus, who is a 15-year Future Sonics client, the long-term hearing questions were an important consideration for his famous daughter. "I wasn't getting the sound that I wanted before," reports the nearly 16 year-old Cyrus. "Future Sonics has everything I want so that the music sounds really incredible on stage or just listening to my music player and I don't need to make it too loud."
According to Jason Morey, Cyrus' manager, who was looking for the best approach to sound quality, hearing health and an experienced audio team to meet the challenges of a range of tour dates and appearances, "Looking at the 'big picture,' we want the right solutions for the long-term as well as today and Future Sonics delivers every time."
"This is an important time for anyone who spends a lot of time listening with any earphone product, but we know that proper use of these items and a better quality of sound are steps that can help a lot in reducing the potential for hearing fatigue and loss," states Marty Garcia, founder and president of Future Sonics. "We are proud to have the support of so many significant people -- both on stage and off -- to let people know that there is much more to it than just cranking up the volume. In fact, they are probably missing out on so much that way."
According to Garcia, Future Sonics is pleased and proud to be involved with the best performers, engineers, broadcasters and consumers - most recently also working with Fox Sports on-air staff, Alicia Keys and Tom Petty & The Heartbreakers for Super Bowl XLII in pre-game, halftime and game time broadcasts.
About H.E.A.R. (R):
Founded in 1988, H.E.A.R.(R) (Hearing Education and Awareness for Rockers) is a non-profit organization dedicated to the prevention of hearing loss and tinnitus among musicians and music fans through education and grassroots advocacy. With support from the music industry, musicians, audiologists, physicians, hearing health organizations, health manufacturers and individual donors, H.E.A.R. (R) is helping to raise awareness of the real dangers of repeated exposure to excessive noise levels from music. The H.E.A.R. Partners program is a national network of certified hearing professionals who support H.E.A.R.'s mission. H.E.A.R.® delivers information on hearing loss and tinnitus to people worldwide via HEARNET.COM®, public service campaigns, educational programs and distributes hearing protection to thousands of people at events annually. For more information please visit http://www.hearnet.com/
About Future Sonics:
Future Sonics is the award-winning original innovator of professional custom and universal fit earphones for personal monitoring for major tours, venues, artists, engineers, broadcasting and houses of worship worldwide. Their dedication to the finest audio quality, reliability and personal service continue to serve the industry's professionals with their Ear Monitors® brand, Atrio™ Series, SofterWear™ professional products, OEM product development and production consulting as they have since 1985. Future Sonics personal monitors are recognized by H.E.A.R.® as products offering their full range of sound and performance at - even the lowest volumes. Future Sonics products are available through their web site at http://www.earmonitors.com, from their authorized global network dealers or your local audiologists and hearing specialists offering bigger sound @ lower volume.™
For more information, contact:
Daniel East
Director of Marketing & Artist Relations
Future Sonics
877-FSI-EARS (877-374-3277)
[email protected]
http://www.futuresonics.com
or
Kathy Peck
Co-Founder & Executive Director
H.E.A.R.®
415-409-EARS (3277)
http://www.hearnet.com
Future Sonics®, the "FS" ear icon, Ear Monitors®, Atrio™ Series, SofterWear™, Bigger Sound @ lower volume™ and all associated images, likenesses, logos and representations are trademarks of Future Sonics Incorporated. iPod® is a registered trademark of Apple, Inc.. Future Sonics is not affiliated with Apple, Inc.. All other trademarks are property of their respective owners.
###