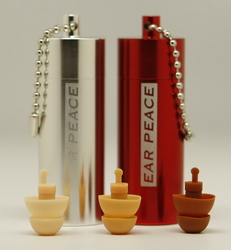 "Never again will I shove foam into my ears and muffle all the sound!" said Jess Caragliano of Terrorbird Media. "EarPeace ear plugs are super comfortable, don't ruin the music, and you can actually hear what the person next to you is trying to say!"
Austin, TX (PRWEB) March 26, 2010
Last week EarPeace provided hearing protection to thousands of music fans who flocked to South by Southwest, the annual music festival featuring hundreds of bands over the course of four days. The average decibel level at a concert is 110, which is safe on your hearing for less than two minutes. EarPeace, high-fidelity silicone ear plugs, was given free to thousands of festival attendees, to demonstrate that hearing protection can actually improve the live music experience.
"We developed EarPeace as a discreet and comfortable way to turn down the volume, without compromising sound quality. It's a huge improvement when you can still really hear the music, understand your friends speaking, and leave a venue without your ears ringing," said Jay Clark, founder of EarPeace. "People don't use traditional hearing protection for three main reasons: it compromises sound quality, it's uncomfortable, and it doesn't look good. We believe we can fundamentally change the way people care for their hearing by addressing those issues."
EarPeace was a staple for concertgoers, musicians, and promoters at South by Southwest. "Favorite (and most useful) SXSW gift was EarPeace -- protected me from over three dozen hard hitting bands" wrote one Twitter follower. "We had EarPeace at two of our SXSW day parties and the response from everyone was great, particularly from all of the musicians playing" said the team at the Brooklyn Vegan, one of the largest New York City music blogs and organizer of two official SXSW parties.
From its sleek, stylish carrying case to the virtually invisible ear plugs, EarPeace is revolutionizing hearing protection. The EarPeace design lets in a small amount of unobstructed sound, delivering lower volume, high-fidelity sound. The soft, elastic silicone is comfortable for long periods of time, is durable and reusable. EarPeace is also low profile and available in three different skin tones, making it virtually invisible when worn.
"I am most concerned about changing perceptions with younger people, who are starting to loose their hearing or even developing tinnitus in their late 20s," said Jay. "There is a real stigma and misperception around wearing hearing protection. EarPeace will help change that. The fact is that you don't have to compromise the quality and enjoyment of live music, nightclubbing, or even a movie experience by using hearing protection."
###