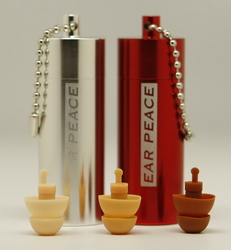 "I've been using EarPeace for the past five weeks of Jay-Z's current "Blueprint 3" tour," says Patrick Dierson, Concert Lighting Director. "I have been very impressed with both the performance and ease of use. They've been working really well for both me
Washington, DC (PRWEB) December 15, 2009
EarPeace (http://www.earpeace.com) is redefining hearing protection with high-fidelity, virtually invisible ear plugs that are available in three different skin-tone colors. "As a big fan of live-music and having already lost a measure of my hearing, I was looking for a way to continue my active lifestyle in a loud world," says founder Jay Clark. "There was nothing on the market, so I created EarPeace as a discrete hearing protection solution that provides high-quality sound, comfort, and comes in an elegant case that is the perfect complement to a night out."
Anyone who loves live music, clubbing or dancing has come home after a night out with ringing, buzzing ears - an indicator of permanent damage. EarPeace was developed to improve the nightlife experience without sacrificing sound quality, comfort, or style. The most common protection currently on the market are bulky, foam ear plugs that protect, but significantly reduce sound quality and are very obvious when worn. EarPeace is a superior new option for protecting your hearing.
Tested at the foremost audio testing facility in the country, silicone EarPeace ear plugs, with their patented pull-tab design, are virtually invisible from the outside and let in a small amount of unobstructed sound. They protect hearing while delivering a superior experience. Reusable silicone EarPeace comes in a sleek, aluminum tube, available in red or silver, which attaches easily to a key chain or slips neatly into a small purse or pants pocket.
EarPeace will revolutionize the hearing protection market, for both concert goers and industry professionals. "I've been using EarPeace for the past five weeks of Jay-Z's current "Blueprint 3" tour," says Patrick Dierson, Concert Lighting Director. "I have been very impressed with both the performance and ease of use. They've been working really well for both me and special guests that join us front of house."
"Nearly everyone today is exposed to prolonged periods of loud noise. EarPeace can add value to nearly any lifestyle." says Jay Clark, when asked who uses EarPeace. "Whether it's seeing a DJ at the hottest new club, live show with your favorite band, the latest action movie, or dancing at a wedding - EarPeace allows users to control the volume and enjoy the lifestyle they want without compromising comfort or quality."
EarPeace comes with a 90-day, 100% satisfaction guarantee.
###