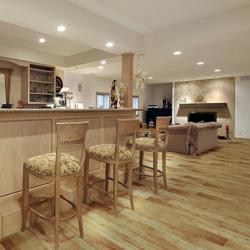 Atlanta, Georgia (PRWEB) April 23, 2013
Nationwide flooring retailer simpleFLOORS Inc. celebrates Earth Day by renewing its commitment to conservation and providing ecologically-friendly flooring products that are produced in a sustainable manner.
The first Earth Day on April 22, 1970, involved 20 million Americans and is widely credited with launching the modern environmental movement. More than 1 billion people now participate in Earth Day activities each year, making it the largest civic observance in the world.
Deforestation was one of the first problems tackled by environmental conservationists and brought to the attention of a global audience. Since flooring is traditionally made from wood products and requires a large scale supply of raw materials, eco-conscious companies like simpleFLOORS sought ways to supply their needs responsibly and sustainably.
Alternative tree-types and production methods were identified, and now simpleFLOORS is able to supply environmentally-friendly flooring nationwide. The resulting products within this category are made from bamboo and cork, which meet the criteria for being environmentally-friendly products primarily due to sustainable growing practices and low-impact harvesting methods of the raw materials.
Bamboo flooring is already being used in many American homes as an environmental alternative to traditional flooring options. It is naturally durable, structurally stable and easy to install. Although Bamboo looks like wood, it is actually a quick growing thick grass and is therefore renewable about every five years. Hardwood trees usually have a 30+ year growth cycle.
Cork flooring is soft, resilient, renewable and sustainable. It is actually made from the bark of the tree, therefore the tree doesn't have to be cut down and the bark will grow back within three years' time. Naturally waterproof, insulating, sound-absorbing and shock-absorbing, it resists mold and mildew. The floors are also hypo-allergenic, so they won't attract dust; are fire-resistant; and can even serve as a natural insect repellant.
Demand for these products is high but simpleFLOORS is able to meet that demand while also maintaining its commitment to preventing deforestation and supporting sustainable production practices.
About simpleFLOORS Inc.
simpleFLOORS is driven by innovative ideas and superior customer service. The company is focused on delivering stylish, yet cost-effective products designed to inspire. Manufacturer-direct importing guarantees unique product lines and no middlemen. With a proven method for establishing store-based and mobile franchise locations in competitive markets, simpleFLOORS not only brings the product to the customer; the organization is also creating careers.