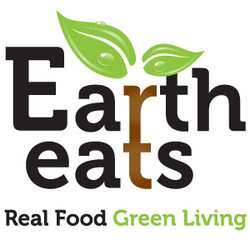 real food for real people.
Bloomington, Indiana (PRWEB) April 2, 2009
Earth Eats is a new weekly radio program and cooking podcast delivering the freshest news and recipes inspired by local food and sustainable agriculture.
Earth Eats focuses on real food and green living pairing interviews with local farmers and other individuals active in the local food movement with the poignant storytelling of celebrated Chef Daniel Orr.
On his partnership with WFIU, Chef Orr says, "I am so happy to be working with WFIU. The Earth Eats team is young, energetic and enthusiastic, making the project a real joy. There is never a dull day in the restaurant business and we hope to share the excitement of all things Green and Edible with our listeners. Welcome to our table."
Earth Eats' listeners will hear in-kitchen demonstrations and tips for budding chefs peppered with Chef Orr's musings on food, history and culture. Earth Eats speaks to the locavore or concerned culinary adventurer, many of whom are now making an effort to eat only ethical raised, locally grown foods produced right in their own backyards.
Recent podcasts have included:

A visit to the National Maple Festival in Medora, Indiana
An interview with Jeff Mease, one of only two buffalo mozzarella producers in the United States
A discussion of spring brewing with brewmaster Floyd Rosenbaum
And recipes for oyster stew, homemade buttermilk biscuits, chicken liver crostinis, and Daniel Orr's own family recipe for grandma's apple pie.
In its first week of release, Earth Eats was selected as the top featured new release in the iTunes podcast directory and quickly rose to the top of the iTunes food category.
The Earth Eats podcast is available through iTunes and past episodes can be heard by visiting our website: http://www.wfiu.org/eartheats/
You can also find Earth Eats on Facebook or follow our updates on Twitter (@eartheats)
About WFIU Public Media
WFIU Public Media is a division of WFIU Public Radio, which is the NPR affiliate broadcasting from Indiana University, serving central and southern Indiana. WFIU Public Media productions include the Kinsey Confidential Sexual Health Podcast as well as Crash Course in Islam and Muslim Voices--two podcasts created in association with the Voices and Visions Project at Indiana University.
About the host
Earth Eats Host Chef Daniel Orr draws from a lifelong curiosity about individual ingredients combined with extensive training in the art of finding food's true essence and flavor. The result is simple, yet sophisticated; the best of American food tempered by classic European training. He calls his cuisine "real food for real people." He is dedicated to producing these wonderful dishes with local ingredients and in as green an environment as possible.
Daniel spent his childhood in Columbus, Indiana, where his parents were serious food lovers. His first summer job in the town's only fine dining restaurant eventually led him to Johnson & Wales University where he graduated with a bachelors degree in restaurant management.
Orr headed abroad and worked at some of the top restaurants in France, before returning home and settling in at New York's famed French restaurant, La Grenouille. In 1999, Sir Terence Conran asked Orr to become the executive chef of his first U.S. restaurant: Guastavino's in New York City. Here Orr was able to experiment and blend all of his training to create menus that defined his signature style. In 2004 he was invited to become the executive chef of the CuisinArt Resort & Spa in Anguilla BWI, where he created a healthy cuisine that was a perfect match for the beauty of Anguilla beaches.
Orr is now the chef/owner of FARMbloomington, a multi-faceted culinary complex consisting of a restaurant, market, bar, and music venue. The menu focus is on local fresh ingredients and the fusion of island cuisine and Midwest American cooking. It is the culmination of chef Orr's entire culinary career, from his parents' kitchen in Columbus, to the CuisinArt Resort & Spa in Anguilla.
# # #