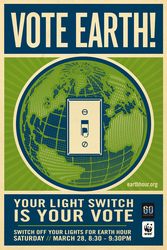 Social media has proved it can be a powerful force for driving change, but when the stakes are as high as they have ever been, we really need the support of the online community for Earth Hour this year
Earth Hour Global Office, Sydney, Australia (PRWEB) March 3, 2009
With one month to go before the world switches off for Earth Hour 2009, organisers are calling on the social media community to help this year's campaign to reach out to one billion people around the world.
Earth Hour is urging bloggers, podcasters, online video makers, mobile users and online social networkers to spread the word about the importance of turning your lights out for one hour at 8.30pm on March 28.
"Social media has proved it can be a powerful force for driving change, but when the stakes are as high as they have ever been, we really need the support of the online community for Earth Hour this year," said Earth Hour Executive Director Andy Ridley.
In December 2009 world leaders meet in Copenhagen to agree on a post-Kyoto policy for tackling climate change. One billion people voting with their light switch during Earth Hour will create a powerful mandate for our leaders to take strong and decisive action on climate change in Copenhagen.
WWF's Earth Hour calls on the social media community to help spread the word by:
Creating blog posts and podcasts about the importance of global action on climate change and how participation in Earth Hour can make a difference.
Joining one of the 50 Earth Hour social media profiles on networks such as Facebook, YouTube, MySpace, flickr and Twitter.
Creating a video and posting it on the web.
Embedding the codes to Earth Hour videos.
Downloading and sharing Earth Hour web banners, online badges, posters and wallpapers.
Mentioning Earth Hour in your status updates in the countdown to Earth Hour.
Registering on the Earth Hour website.
"The open source nature of Earth Hour allows people to be highly creative in the way they drive the campaign forward. We encourage you to download, share and create your own material in support of Earth Hour," said Mr Ridley.
The Earth Hour campaign is already generating a strong online presence: every seven seconds a new mention about Earth Hour appears on the web; Earth Hour social profiles have over 230,000 friends and followers with a new connection every 20 seconds; and an Earth Hour video is viewed every 20 seconds online.
"The global online community can be the catalyst to Earth Hour 2009 reaching one billion people and delivering on its goal of compelling world leaders to really tackle climate change," Mr Ridley said.
# # #