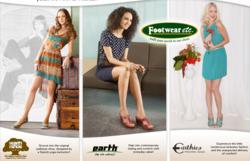 he Earth® brands are appealing to a wide range of customers. With so many different styles and dressy shoes vs. casual shoes, there's a fantastic selection to choose from.
Sunnyvale, CA (PRWEB) April 03, 2013
Footwear etc. is pleased to announce that it has received Spring 2013 Collection of footwear from Earth shoe Brands. This company actually is composed of three brands: Kalso Earth®, Earth® footwear, and Earthies®. All three of these brands are very popular, and meet very different needs of customers. With very different styles, there are choices for all sorts of attire. As a result, all three of these brands have proven to be successful with customers.
There are some significant differences among these brands. Kalso Earth® was created by Danish yoga instructor, Anne Kalso, and features a negative heel in each shoe. This technology helps emulate the feeling of wellness like that in experienced in the yoga position, "Mountain" pose, as well as that of walking barefoot in the sand. Kalso Earth® shoes consist of casual sneakers, slip-ons. Mary Janes, and boots.
Earth footwear is slightly dressier than Kalso Earth® products, and do not contain a negative heel. Instead, these shoes promote "Stepping Into Wellness" by featuring contemporary styling with a comfort footbed and outstanding shock absorption. The Earth collection includes embellished flip flops and slides, wedges, dressy flats, and shoes appropriate for the office and beyond.
The Earthies® brand reflects a combination of wellness properties and fashion. These shoes are intended for dress casual or even more formal occasions. Earthies shoes have a unique wellness footbed, which cradles the toe area and distributes away from toes, a cupped heel to keep the foot in the proper position, and an anatomical arch for outstanding support.
Sales Manager Andrew Monarch adds, "The Earth® brands are appealing to a wide range of customers. With so many different styles and dressy shoes vs. casual shoes, there's a fantastic selection to choose from. These have been very popular with our customers and we expect them to be really successful this Spring."
Some of the new models for Spring include: Kalso Earth's® Women's Intrigue Too – a casual Mary Jane with a microfiber upper that is available in several colorful patterns. This slip-on shoe is easy to wear, and is expected to be a very popular model during the warm-weather months. Earth® has a new model called the Women's Sundew, which is a slide with beautiful cut-out detailing. This versatile shoe is suitable to wear with both casual and slightly dressy attire. A beautiful new wedge in the Earthies® line is the Women's Corsica. Available in Green Exotic, Black Exotic, or Spice Embossed Leather, this stylish wedge uses a variety of materials to add visual interest to the shoe.
Look for the entire collection from Kalso Earth®, Earth®, and Earthies® online at footwearetc.com and at their retail store locations in Northern California and San Diego.
About Footwear etc.:
Footwear etc. is a well-established, family-owned business, headquartered in Silicon Valley, CA since 1986. The company is committed to improving customers' quality of life by offering brand name products that demonstrate their belief in the need for healthful, comfortable and fashionable footwear. Footwear etc. operates nine retail stores located throughout the Bay Area and San Diego, and also offers their products on their website and catalog. To find out more, please visit http://www.footwearetc.com.