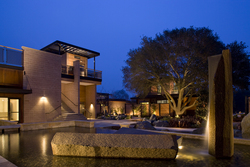 Napa Valley, CA (PRWEB) April 22, 2009
The 62-room luxury hotel, spa with a 92-seat restaurant and bar are situated on an old family farmstead in the tiny town of Yountville, famously home to such three-star restaurants as The French Laundry. The property blends itself into the surrounding community through a series of extended community walking paths.
Before the hotel even opened, contractors Cello Maudru distinguished the property by recycling 93 percent of all construction waste. Now in its second month Bardessono fills approximately half of its electricity need from a 200-kilowatt photovoltaic solar system discreetly mounted and concealed atop the hotel's flat roofs. To heat and cool guest rooms as well as the property's water supply, a system of seventy-two 300-foot geothermal wells were drilled the hotel vineyard and integrated with a specially developed ground source heat pump system.
Structurally as well as aesthetically, the Bardessono makes prodigious use of "up-cycled" materials including recycled steel, green glass tiles as well as fly ash concrete. (Fly ash, a glass-like powder recovered from gases created by coal-fired electric power generation, is a recyclable material often used as a replacement for Portland cement). Salvaged wood from locally-sourced Monterey Cypress, Walnut, Redwood, Eucalyptus and California Bay Laurel trees has been used for everything from siding and ceiling beams to furniture and bathroom flooring. Locally quarried Tuffa stone, salvaged and re-cut from the Bardessono family's original home, adorns the hotel's entry way as well as its reception and dining areas.
Sherburne's creation, which opened this winter, proves that deep green living is a fresh pleasure. His rooftop swimming pool lends rare views of the Stags Leap Palisades and Mayacamas Mountains while offering private poolside cabanas and a pizza oven. Guest rooms benefit from generous amounts of natural light as well as private courtyards. All rooms are equipped for in-room spa services and some feature both indoor and outdoor showers. A few have outdoor heated Sonoma Stone tubs. Bed linens, towels and robes are made from locally sourced organic cotton, all of which is green certified.
A one-time University of Oregon student activist-turned urban policy planner, Sherburne began his career not in private development but public housing. Before that, he lived on his family's Oregon dairy farm. It is this combined experience that Sherburne carried with him into the development business more than 20 years ago with the creation of Decatur Northwest in the San Juan Islands. It is his touchstone for creating developments that balance business interests with that of the public and nature large.
###