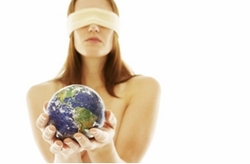 We are proud of what we have done, and we continually strive to do more
San Francisco, CA (Vocus) March 26, 2009
Earth Hour is an annual international event created by the World Wildlife Foundation, to be held this Saturday night, that asks households and businesses to turn off their non-essential lights and electrical appliances for one hour at 8:30pm local time to raise awareness of the need to take action on climate change. With over 70 countries expected to participate, an estimated 50 million people will hit the switch on March 28, 2009.
Then what? How will you spend your hour?
While there are many activities scheduled, you can plan your own unique celebration in the dark. Visit betterwinesbetterworld.com to learn how to have a truly "blind wine tasting" of premium wines packaged in a format that is better for the environment. To ensure impartial judgment of a wine, it should be served blind--that is, without the taster(s) having seen the label or bottle shape. A taster's judgment can be prejudiced by knowing details of a wine, such as geographic origin, price, reputation, color, or other considerations.
For this Earth Hour tasting, purchase one of nine premium wine brands now available in the ecofriendly 3L cask format: Fish Eye (California), Pinot Evil (France), Herding Cats (South Africa), J. P. Chenet (France), Boho Vineyards (Central Coast), Angel Juice (California), Killer Juice (California), Casarsa (Italy) and Corbett Canyon (California). Then let your senses do the rest. The wines will not taste any different--cask versus glass--and there's the additional benefit that cask wines will continue to taste this fresh for up to six weeks once opened.
The innovative 3 liter cask format requires far less energy to produce and transport and results in 55% lower carbon emissions and 85% less landfill waste than traditional glass packages. Each 3 liter premium cask equals 4 bottles or 20 five-ounce glasses of wine (often at the price of three bottles). To learn more and review the data, visit http://www.betterwinesbetterworld.com.
"Switching the lights off for an hour does make a powerful statement and so does switching from bottled wine to cask wines with a substantially smaller carbon footprint," stated Brian Vos, Chief Operating Officer of The Wine Group, the world's most cost and carbon-efficient vintner. The Wine Group earned this distinction from its pioneering work on lightweight, low-waste packaging in America, and also exports in bulk and bottles closer to the points of consumption, which produces a smaller carbon footprint. "We are proud of what we have done, and we continually strive to do more," said Vos. "In fact, we recently flicked the switch on one of the wine industry's most efficient solar farms at our Fresno, CA winery. Fresno's 1 megawatt solar farm's rated output is over 2,050,000 kilowatt hours per year or about 40% of our winery's annual electrical power needs. The solar farm, which covers an area of about 7 acres, uses state-of-the-art ground mounted solar arrays that rotate to follow or 'track' the sun's arc though the sky so the solar panels stay in the best position to receive optimum exposure to the sun throughout the day. 'Trackers' as they are generally called, can produce as much as 20% more output than stationary systems," stated Vos.
The Wine Group, LLC is a San Francisco based privately-held company that produces such well-known brands as Franzia, Concannon, Big House, Glen Ellen, Corbett Canyon, Foxhorn, Fish Eye and Mogen David. Founded in 1981 by a management buyout of the wine assets of The Coca Cola Bottling Company of New York, The Wine Group is now the world's third largest wine producer by volume and the world's most cost and carbon efficient vintner.
Earth Hour 2009 asks people to switch off their lights as part of a global vote. Unlike any election in history, it is not about what country you're from, but instead, what planet you're from. VOTE EARTH is a global call to action for every individual, every business, and every community. Over 74 countries and territories have pledged their support to VOTE EARTH during Earth Hour 2009, and this number is growing everyday. Everyone has a vote, and every single vote counts. Together, people can take control of the future of the planet, for future generations. VOTE EARTH by simply switching off the lights for one hour at 8:30pm local time March 28th, 2009, and join the world for Earth Hour. To learn more, visit http://www.earthhour.org.
To speak with a representative of The Wine Group, please contact Patricia Schneider at (415) 717-7595 patricia9 (at) comcast (dot) net.
# # #