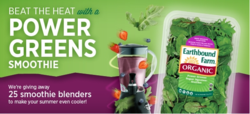 Earthbound Farm is giving away 25 smoothie blenders to make your summer even cooler.
SAN JUAN BAUTISTA, Calif. (PRWEB) July 25, 2012
Organic produce leader Earthbound Farm this week launched a cool sweepstakes contest at the peak of summer heat to reward those who "Take an Organic Step Forward," in the company's online community of the same name, which this week is featuring coupons and recipes for powerfully delicious and healthy smoothies featuring Earthbound Farm organic Power Greens and organic frozen fruit. Earthbound Farm's Power Greens provide more fiber, antioxidants and vitamins than many traditional salad greens, such as iceberg lettuce.
WHAT: Earthbound Farm is giving away five Hamilton Beach 'Wave Station Express Dispensing' blenders every day this week.
HOW: Consumers enter to win by visiting Earthbound Farm's Facebook page (https://www.facebook.com/earthboundfarm).
WHEN: Three days left ending Friday, July 27.
WHY: Cool off. Power up with healthy, organic choices.
###
Founded in 1984 on a 2.5-acre backyard garden, Earthbound Farm is now one of the nation's leading organic food companies. Earthbound Farm's nationally lauded food safety program is unparalleled in the produce industry. The company offers more than 100 varieties of certified organic salads, fruits and vegetables grown on nearly 40,000 acres by more than 200 farmers. Taken together, those organic farming methods will keep more than 14 million pounds of conventional chemicals out of the soil, water and air during 2012 alone. For more information, visit Earthbound Farm's website at http://www.ebfarm.com or Facebook.