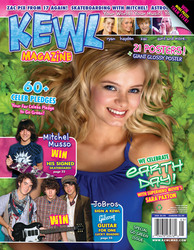 Burbank, CA (PRWEB) April 22, 2008
KEWL Magazine is showing tweens just how kewl saving the planet from global warming can be. Expanding on its regular Go Green feature, KEWL celebrates Earth Day with an issue filled with teen celebrity 'green' pledges, information on endangered sites and endangered animals, and tons of information on how to get involved.
Denise Bradley, KEWL's Co-Founder and Editor, gathered 'green' pledges from over 60 top teen and tween celebs, showing how they would change one thing in their lives to help slow global warming. Additionally, the Top Ten Green Ten Celebs were spotlighted who have independently shown the world just how earth-friendly one person can be. Celebs that made the list include Hayden Panettiere, Zac Efron, Miley Cyrus, Hilary Duff, Bindi Irwin, and more. Along with the celebs, over twenty earth-friendly companies have donated their products as prize give-a-ways in the magazine, including necklaces made of recycled precious metals, re-usable gift bags, and solar cell phone chargers. Celebrity posters place top celebs in front of world destinations threatened by global warming. Featuring Aquamarine's Sara Paxton awash in green leaves on the cover, the magazine is filled with helpful quizzes and information so that each reader can make a change on their own.
Celebrating its dynamic first year, KEWL Magazine continues to lead in the music and celebrity magazine market for tweens. KEWL Magazine continuously innovates its style, media, and content to produce positive message features in a way that resonates with today's youth. Content includes exciting and up-to-date entertainment, fashion, beauty, environment and fitness information. Likened to an "Entertainment Weekly for Tweens", KEWL provides movie, tv, game and book reviews for its readers.
KEWL Magazine is an internationally sold tween magazine with a circulation of 350,000 copies, and a popular tween website. It was founded in April 2007 by husband-wife team, Mike Bundlie (Publisher) and Denise Bradley (Editor) and has gone from being a quarterly promotional to being a content-rich, monthly magazine and a top seller at retailers nationwide. The magazine is published by KEWL, LLC, an independent brand company based in Burbank, CA.
For your convenience: Press materials including quotables, images and media kits are available for download at http://www.kewlpress.com. Includes: Top Ten Green Teen Celebs, Celebrity Pledges, Cover images, Endangered Places and Animals, and more.
KEWL Official Press Site
KEWL Official Web Site
###