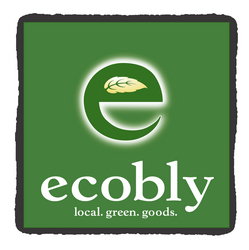 Not only are these companies not harming the planet, they are actually restorative - working to provide benefits
Seattle, WA (PRWEB) April 2, 2009
You can shop to support the U.S. economy and still celebrate Earth Day! Consumers and businesses can seek locally made, green products on the ecobly directory . Companies that qualify for the ecobly label sell "made in the U.S." products and choose to source their materials sustainably from our landfills, recycling programs, organic farms and other creative sources to make products for our every need.
Manufacturers that qualify for the ecobly badge meet the Green Gold Standard - a majority of materials sourced locally and made sustainably. The entire supply chain benefits communities, while helping to reduce the collective carbon footprint. The directory includes companies offering a wide variety of products - green toys, greenbuilding supplies, office supplies, home decor, jewelry, stationery, and more!
"Not only are these companies not harming the planet, they are actually restorative - working to provide benefits," said Kathleen Ridihalgh, president of ecobly.com. "Ecobly is the only verification company focused on sustainable products made of a mostly U.S. supply chain. Shopping from ecobly companies is guilt-free."
One example is Clean-Flame firelogs in California. They divert unrecyclable wax-coated grocery boxes away from the landfills and, in its local manufacturing plant, create firelogs that burn cleaner and more efficiently than conventional firelogs and wood. They are shipping their new packages with the ecobly local.green. badge to distinguish their product from the competition.
Clean-Flame CEO Kory Hamman's motto is, "Help us save the forests one log at a time."
By purchasing from ecobly companies, consumers support green initiatives and local U.S. businesses like:

municipal and private recycling
cottage industries and crafts
organic cotton farmers and sustainable forestry
local manufacturing
small business entrepreneurs who are upcycling and repurposing
Even in these hard economic times, research demonstrates that consumers are seeking out green and U.S.-made products. Ecobly.com removes the mystery - and does all the research - for consumers who want to avoid greenwashed products, or even "green" products with a heavy carbon footprint. Companies that qualify for the ecobly badge and advertise that they meet a high bar standard:

A majority of content from within the region where manufacturing occurs (exceptions are made for reclaimed raw materials, which have such a small footprint, the shipping adds negligible environmental impact)
A majority of eco-friendly content, such as post-consumer recycled material, reclaimed material, Forest Stewardship Council-certified or sustainably harvested wood, and organic agricultural materials
Non-toxic finishes and glues
Any non-local content adheres to fair trade principles, safe practice guidelines, child- and slave-free labor, animal cruelty-free and non-toxic
Ecobly.com is a one-of-a-kind nationwide directory of green, local manufacturers and businesses that are committed to sustainability. Products that qualify to wear the ecobly label will include a majority of locally sourced, sustainable materials and the companies will follow sustainable business practices such as recycling, waste reduction, clean power, non toxic and organic materials. Ecobly.com will help consumers find the gifts and goods that reflect their values that are produced right in their backyards. It will also allow like-minded businesses to share strategies, ask questions, access experts, and source green raw materials.
Find out the latest news on our local.green.blog.
###