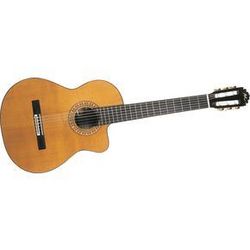 Medford, OR (PRWEB) April 21, 2009
Direct marketer of music gear Musician's Friend is celebrating Earth Day by recognizing guitar manufacturers that make environmental protection and humanitarian causes a high priority. Manufacturers C.F. Martin, Laguna, Rodriguez, and Warwick are doing their part by advocating healthy forest management, integrating energy efficiency, and forging collaborations with non-profit organizations.
Martin: Trendsetters in Earthwise Material Use
In recent decades, the traditional woods used for making guitars--rosewood and mahogany in particular--have grown increasingly scarce. That's why C.F. Martin and Company, one of the world's oldest and largest manufacturers of acoustic guitars, has incorporated environmentally sustainable materials in their guitar production process for the last 20 years. Some wood Martin uses is harvested from well-managed forests that meet environmental, social, and economic standards. Below is a sampling of eco-friendly Martin instruments.
The Martin D Mahogany 09 Acoustic Guitar and the Martin SWDGT Sustainable Wood Series Dreadnought Acoustic Guitar are two examples of instruments constructed from environmentally sustainable, certified wood.
Martin has received accolades from the media including Readers Digest and The New York Times for developing alternative laminated woods and other materials as substitutes for rare, traditional tone woods. During the past decade, Earth-friendly birch and cherry have become popular alternatives in Martin's guitars and ukuleles, including the exquisite Martin Special Edition 3 Cherry Soprano Ukulele, which is made from 100% certified woods.
Martin also crafts instruments from "rescued" wood, putting fallen trees to good use. The top of the Martin Special Edition OMC Cherry Acoustic Electric Guitar was crafted from rescued Sitka spruce that might otherwise have been scrapped.
Manuel Rodriguez: Caring the Carter Way
Spanish classical guitar manufacturer Rodriguez is a family-run company that demonstrates its unwavering social consciousness by touching the lives of people in need. Rodriguez donates proceeds from the sale of their classical guitars to the Carter Center Foundation, founded by former President Jimmy Carter, that focuses on human rights, disease prevention, and easing human suffering in more than 70 countries.
Warwick: Alternative Energy and Independent
If any company can boast about its green practices, it's Warwick, makers of basses and bass amplifiers. Committed to alternative energy, its factory is completely energy self-sufficient. Warwick uses sawdust and scrap wood for heating and solar arrays on the roof to provide 120-135% of its electrical needs, with the surplus going back to the local electrical grid.
Laguna: Rebuilding the Forest One Guitar at a Time
Guitar manufacturer Laguna, launched its "One Guitar, One Tree" two years ago. The company continues to plant one tree for every Laguna guitar made. Laguna collaborates with AmericanForests.org and their Global Relief campaign for the program. Along with tree planting efforts, each Laguna guitar is shipped in a 100% recycled cardboard box.
About Musician's Friend:
Musician's Friend, Inc. is the world's largest direct marketer of musical instruments and has been headquartered in Medford, Oregon, since its inception in 1983. With more than 70,000 unique products for sale, the company covers a wide range of musical needs, including guitars, basses, amplifiers, keyboards, live sound, recording equipment, drums, percussion, woodwind, brasswind, and orchestral stringed instruments, as well as related accessories that are marketed through its print catalogs and websites, including musiciansfriend.com.
The Musician's Friend website also offers informative musicians' resources, including in-depth buying guides, tech tips, articles by industry professionals, interviews with well-known artists, and a half million customer-written product reviews and ratings.
With warehousing in Kansas City, Missouri, and a call center in Salt Lake City, Utah, Musician's Friend can be contacted at 800-776-5173 or by visiting their website.
Musician's Friend is a wholly owned subsidiary of Guitar Center, the world's leading retailer of musical equipment.
###