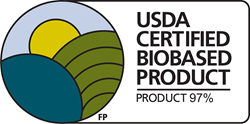 Detox Environmental LLC is the only green cleaning manufacturer to boast such honors within 500 miles of its home base in Seattle, Washington, reducing the carbon footprint in the Pacific Northwest.
(PRWEB) April 21, 2015
Seattle-based manufacturing company, Detox Environmental LLC, announces its successful certification for labeling as USDA BioPreferred Certified at 97% biobased content for their entire cleaning line, with their Glass & Stainless exceeding the Federal purchase category by 19%, in time for Earth Day 2015. The rigorous certification process for USDA BioPreferred Certification credentials meets Federal biobased purchasing requirements, an important component of sustainable acquisition. "We feel that the USDA Federally mandated certification has a higher standard for environmental metrics," states General Manager Scott Rhodes, inventor of the formula.
Detox Environmental's Natural Cleaners contain no known triggers of chemical sensitivity and are 100 times less toxic than most products under the sink. Company founders at Detox Environmental understand all too well the damaging effects of toxic cleaning products. Three out of the four co-founders suffer from Multiple-Chemical Sensitivities (MSC). Fully committed to non-toxic, hypoallergenic cleaning products, the people behind the brand continue to produce certified, ultra-low emission and bio-renewable cleaning products suitable enough for their own green households and public consumers concerned about their environment. "It has helped us dramatically, and we want to help others with MCS," states Rhodes.
Company owners challenge consumers to go beyond "green" and try their certifiably clean, non-toxic, healthy products proven safe and effective for use around children, pets, and people with chemical sensitivities. With their products now available on Amazon, health conscious consumers may select from a full line of "green" certified cleaning products effective on carpet, porcelain, laminate, stone, tile, grout, and hard non-porous surfaces. Detox Environmental LLC and Alvára Natural Cleaners are also UL GREENGUARD Gold certified, as referenced by Collaborative for High Performance Schools (CHPS) and by Leadership in Energy and Environmental Design (LEED). Visit http://www.detoxcleaner.com to shop online or call 1-253-929-6386 to place your orders.
About Detox Environmental Natural Cleaners:
Detox Environmental LLC, provides truly green, non-toxic, hypoallergenic, ultra-low emissions commercial and household cleaning products specifically engineered for sensitive individuals with Multiple-Chemical Sensitivities (MSC) and people concerned about indoor air quality (IAQ). Company products meet Federal Purchasing requirements, USDA BioPreferred certification, and UL GREENGUARD Gold certification. For more information on Detox Environmental LLC, Alvára Natural Cleaners, and the company's full line of non-toxic cleaning products, visit http://www.detoxcleaner.com or call 1-253-929-6386.