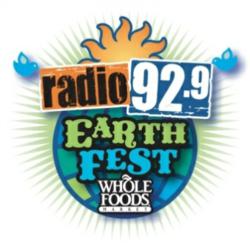 "The diversity of the acts performing at this year's event represent the type of music played by Boston's rock station, Radio 92.9," said Ken West, program director at Radio 92.9. "Over the past 19 years, the Radio 92.9 EarthFest has established itself as
Boston, MA (PRWEB) April 26, 2012
The annual Radio 92.9 EarthFest will return to DCR's Hatch Memorial Shell in Boston on May 19, 2012 with a stellar line-up that includes Third Eye Blind, The Spin Doctors, Switchfoot, and Eve 6.
For 19 years, the Radio 92.9 EarthFest has drawn crowds to the DCR Hatch Memorial Shell along the Charles River in Boston for this annual celebration for the Earth. Presented by Whole Foods Market, the family-friendly festival is the largest free radio station concert in the country, showcasing national and local music acts, environmentally friendly products and local non-profit environmental organizations.
The Radio 92.9 EarthFest will also include music and activities in Kids' Planet – an interactive area designed specifically with families in mind. The Kids' Planet stage will feature performances from Mister G, Sarah Wheeler & Little Groove, RhymeZweLL Vanessa Trien & the Jumping Monkeys and student performers from Zumix. The Kid's Planet area will also feature environmental activities, educational displays and other activities planned for children under the age of 12.
The music on the main stage will begin at 11:30 a.m. with a local band chosen through a contest hosted by Radio 92.9. Sixteen bands will be selected for the bracket and the final four will perform at an event in May. One band will be picked to play in front of thousands of people at Radio 92.9's EarthFest. For more details or to enter a band in the contest, visit http://www.myradio929.com Performances on the Kid's Planet stage begin at 10:30am.
"The diversity of the acts performing at this year's event represent the type of music played by Boston's rock station, Radio 92.9," said Ken West, program director at Radio 92.9. "Over the past 19 years, the Radio 92.9 EarthFest has established itself as a must-attend event. We are fortunate to be able to work with the Department of Conservation and Recreation to host this celebration of the Earth in such a beautiful location."
The 2012 Radio 92.9 EarthFest is committed to offering festival goers an opportunity to learn how they can make a difference and help save Planet Earth. The festival will feature exhibits and environmental displays, staffed by sponsors and non-profit environmental organizations from New England. Each exhibitor is focused on raising awareness and offering educational information about different environmental issues facing the planet. Some of the highlights will include:

The Whole Foods Pavilion - Nearly two dozen companies will sample earth-friendly products along with demonstrations and other interactive activities
The MBTA Hybrid Bus Display. The state of the art hybrid drive system is equipped with a regenerative braking system that diverts brake energy into the vehicle's energy storage system for future use by the hybrid system. The hybrid system is capable of improving fuel efficiency by a minimum of 20% compared to conventional diesel buses when operated during a stop-and-go inner city duty cycle.
Free Bike Valet offered by MassBike- Mass Bike will once again be onsite staffing a free bike-valet program, offering concertgoers an alternative to driving to the festival. Celebrating its 35th anniversary, MassBike continues to promote a bicycle-friendly environment and encourages bicycling for fun, fitness and transportation.
Eco-Pavilion – Dozens of local environmental groups and agencies will be on-site to educate attendees on how to be green.
Casella Waste Systems Recycling Program -To minimize the environmental impact of the event, Casella Waste Systems will manage a comprehensive recycling program onsite.
The Radio 92.9 EarthFest is produced in conjunction with the Massachusetts Department of Conservation and Recreation (DCR.) The Department of Conservation and Recreation is steward of one of the largest state parks systems in the country. Its 450,000 acres is made up of forests, parks, greenways, historic sites and landscapes, seashores, lakes, ponds, reservoirs and watersheds. The DCR's Hatch Memorial Shell and surrounding Esplanade area is a renowned venue for free events and programs in the city of Boston.
Because the Radio 92.9 EarthFest is expected to draw a crowd of more than 100,000 people, attendees are encouraged to take advantage of the free bike valet service offered by MassBike or use public transportation. The DCR Hatch Shell is accessible by MBTA. Concertgoers can take the Green Line to Arlington Street or take the Red Line to Charles Street / MGH. For more details, visit the MBTA website at http://www.mbta.com
For more information about the 19th annual Radio 92.9 EarthFest, listen to Radio 92.9 FM or visit http://www.earthfest.com
About Radio 92.9
Radio 92.9/ WBOS-FM is owned by Greater Boston Radio, Inc., a subsidiary of Greater Media Inc., the parent company of 22 AM and FM radio stations in the Boston, Charlotte, Detroit, New Jersey and Philadelphia markets. Greater Media also owns a group of weekly newspapers in central New Jersey and several telecommunications towers located throughout the United States.
Follow Greater Media, Inc. on Twitter for up to date headlines and press releases at http://www.twitter.com/greatermedia. Become a fan of the Greater Media, Inc. page on Facebook.