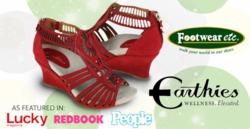 Our customers really love the fashion-forward style and all the comfort features...
Sunnyvale, CA (PRWEB) July 26, 2012
Footwear etc. is delighted to announce that it is now carrying the entire line of Earthies shoes, sandals and boots. Earthies has many amazing options for women looking for dressy shoes that are also complete with many comfort features.
Featured in Lucky Magazine, RedBook and People Magazine, Earthies shoes are incredibly comfortable, very stylish, and contain a patented Wellness Footbed® to promote foot health. This unique footbed contains a cupped heel for extra support and stability, an anatomical arch for support, and a cradle toe area that allows you to evenly distribute weight away from your toes as you stand, even in heels. All of these technical features plus the beautiful styles comprise a comprehensive line of attractive and popular shoes that customers love.
Sales Manager Andrew Monarch adds, "Earthies are increasing in popularity. Our customers really love the fashion-forward style and all the comfort features of these shoes."
Two of the most popular Earthies sandals are the Carmona and the Bellini. The Carmona is a dressy wedge-heeled shoe with intricate cut-outs in the upper. Not only is it extremely comfortable, it can pair well with jeans or dresses. The Bellini is a gorgeous wedge slide that is adorned with leather flowers for a feminine flair. Also available in a variety of colors, the Bellini has – as all Earthies shoes contain – the anatomical arch and cradle toe area in its footbed.
Customers are also very pleased with Earthies boots. A very popular model is the Raphaelle, which has a 3" heel height and a soft, brushed suede upper. The textured outsole helps create traction, and the metal buckle adds visual interest. Many other Earthies boots and shoes are available as well, all containing their patented footbed and superior style features.
The entire Earthies collection is available now online at footwearetc.com and at their retail store locations in Northern California and San Diego. Popular sandal styles are being offered at great sale prices to make room for the new fall shoes and boots which are arriving daily.
About Footwear etc.:
Footwear etc. is a well-established, family-owned business, headquartered in Silicon Valley, CA since 1986. The company is committed to improving customers' quality of life by offering brand name products that demonstrate their belief in the need for healthful, comfortable and fashionable footwear. Footwear etc. operates nine retail stores located throughout the Bay Area and San Diego, and also offers their products on their website and catalog. To find out more, please visit http://www.footwearetc.com.