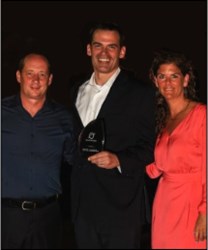 Plain and simple, Telarus provides value where others don't.
Sandy, UT (PRWEB) April 30, 2013
Telarus, Inc., premier telecom master agent and patent holder of real-time carrier quotes, today announced that it was named 2012's top producing Channel Partner by EarthLink Business, a leading IT and communications provider.
"We congratulate Telarus, their employees, their leadership team, and their sales partners for an outstanding 2012," said J.R. Cook, Vice President of the Partner Channel for EarthLink Business. "Their dual approach of developing automated systems and hiring high-quality support personnel are yielding outstanding results. Likewise, we saw much larger deals in 2012 than in previous years from Telarus as well as our other valuable channel partners. As we continue to build out our award-winning hosted voice, MPLS, and IT services product lines, we anticipate continued success both with Telarus and their peers in 2013."
Telarus has completely integrated all of EarthLink's products into its real-time availability and quoting tool it calls GeoQuote, enabling its agent partners to find and source EarthLink SMB and fiber Ethernet products in record time.
"We'd like to take credit for this huge accomplishment, but we recognize that this wouldn't have happened without the superior support our partners receive from EarthLink's local channel managers that provide localized, personal assistance," added Adam Edwards, President of Telarus, Inc. "In addition to having a top notch national channel manager, Shirley Ah Sing, the added value of having a local resource in each market EarthLink Business serves has been the key to developing personal relationships with our partners as well as their clients. Our 2012 sales numbers are validation of that strategy."
Robert Butler, VP of Sales for Telarus, added, "We'd also like to thank EarthLink Business for providing subject matter experts in the area of hosted voice, MPLS, and IT services. Our partners sell EarthLink Business in bulk because they make it easy; easy on us to support and quote, easy on our partners to get the best solutions at the best price, and easy on the customers who enjoy customized data, voice, and IT cloud solutions that EarthLink Business offers. We look forward to continuing this trend in 2013."
About Telarus
Telarus, Inc., a value added distributor that holds contracts with the world's leading commercial telecommunication carriers, makes it easier and more profitable for solution providers, VARs, and MSPs to sell and source voice and data WAN solutions. Our patented GeoQuote platform combines real-time carrier pricing with advanced research features and branded proposals. Telarus' experienced Sales staff is strategically focused on enterprise WAN and high-capacity bandwidth solutions, like ethernet over copper services and business ethernet broadband service, making it easier to find the best offer, every time. For its part, Telarus has been named the top Master Agent by the members of the Telecom Association in each of the past three years, the first and only company in the carrier channel to accomplish this feat. Whether you are a top producer or a voice-and-data expert just starting out on your own, there is a place for you in the Telarus community. For more information on the Telarus partner program, please visit telarus.com or call the new partner hotline at 877-346-3232.