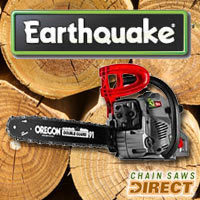 Bolingbrook, IL (Vocus) May 10, 2010
ChainSawsDirect.com is expanding its online consumer gas-powered product offering with the inclusion of Earthquake chainsaws.
With the addition of this new product line, the gas chain saw category now features a wider offering.
"These new Earthquake chainsaws are a perfect match for consumers looking for a high-performing, affordable gas powered chain saw," said Jon Hoch, founder and CEO of Power Equipment Direct, the parent company of ChainSawsDirect.com.
In addition to carrying Earthquake chain saws, ChainSawsDirect.com also carries a complete line of Husqvarna, Earthwise, Poulan, Tanaka chain saws, plus a wide selection of chain saw accessories and safety equipment.
Power Equipment Direct operates nine niche online superstores. In addition to ChainSawsDirect.com, the Bolingbrook, IL-based company operates AirCompressorsDirect.com, ElectricGeneratorsDirect.com, PressureWashersDirect.com, SnowBlowersDirect.com, MowersDirect.com, WaterPumpsDirect.com, SumpPumpsDirect.com and LogSplittersDirect.com.
###