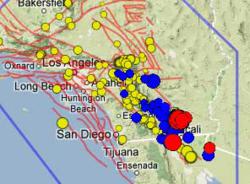 Make sure you're prepared. You have your emergency kit, your emergency supplies, and know what you're going to do.
Tarzana, CA (PRWEB) August 27, 2012
In an ABC7 news interview, Robert Graves, a seismologist with the USGS reported on the swarm of 300 small-to moderate-sized earthquakes, topping out at 5.5, which have recently struck Southern California.
"We live in Earthquake Country", he said. "If we're going to have an earthquake, it's as likely today as it is tomorrow or next week. So if nothing else, make sure you're prepared. You have your emergency kit, your emergency supplies, and know what you're going to do."
Although the Imperial Valley was hardest hit, its sparse population resulted in no reports of serious damages or injuries, although trailer homes were shifted off their foundations and several schools have closed.
A spokesman for First Aid Global, LLC added, "For the 2nd time this August, we've seen clusters of quakes merely a couple of dozen miles from the San Andreas Fault, meaning tension could be building for a more serious earthquake. That's why it's still so important to purchase emergency preparedness kits for your children, homes, autos and workplaces."
"We compare our preparedness kits to a 5-year insurance policy, as our food and water have a 5-year shelf-life. That's why we say that 'Preparedness is Peace of Mind'. Other than common-sense retro-fitting your home, if you stock up now with light sticks, flashlights, radios, blankets, first aid, goggles, masks and leather gloves, you'll know you've taken the first step into ensuring the safety of your family."
First Aid Global offers complete emergency preparedness kits and supplies with long-term shelf-life food and water and can ship immediately. They also maintain a website for emergency power during a power failure, a common occurrence after a large temblor. PowerSurvival.com carries Solar Power Generators that have no moving parts, are always ready for service, and can be recharged directly from the sun during a prolonged blackout. Their friendly staff will even come to your company and set up their products so that your employees can purchase what they need. Contact them toll free at 866-305-1753 for more information.